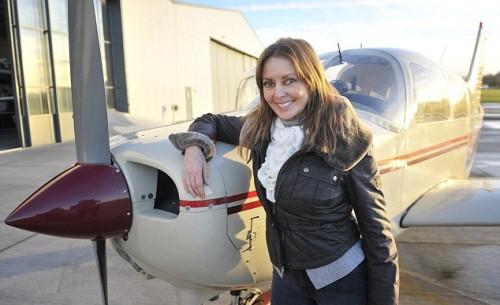 Actor Martin Shaw has blasted Carol Vorderman's plans to fly solo around the world as "insane."
Vorderman qualified as a pilot just last month, but recently announced that she intends to emulate Amelia Earhart's historic, round the world solo flight.
An aviation pioneer Earhart, was declared dead in 1939, two years after she went missing over the Pacific Ocean while attempting to fly around the world.
Shaw, who is an experienced pilot having been flying for 22 years, has said that the TV star is far too inexperienced to undertake such an epic journey.
Speaking to the Daily Mirror he said: "Carol, I think, has only just learned to fly. If she's going to do it solo, you have to admire the bravery, but its insanity.
"I don't want to be the spectre at the feast or a wet blanket on her sense of courage, but I've been flying for 22 years," he explained.
The 69-year-old Judge John Deed star said that a solo flight required extensive expertise and flying experience.
"A plane is like a musical instrument. It's not a mechanical skill like driving or even playing tennis. It's like being a concert pianist – you can never be good enough."
Vorderman had previously expressed her ambition to recreate the 29,000-mile journey saying it had been her "dream for decades."
"It's something I've always wanted to do and I've got to the point in life where I just decided to do it … and if I don't do it now, I never will. I'm totally obsessed with flying," she said.
The 53-year-old Maths whizz was only recently forced to make an emergency landing shortly after taking off from Gloucestershire Airport in Staverton in October after smelling burning.