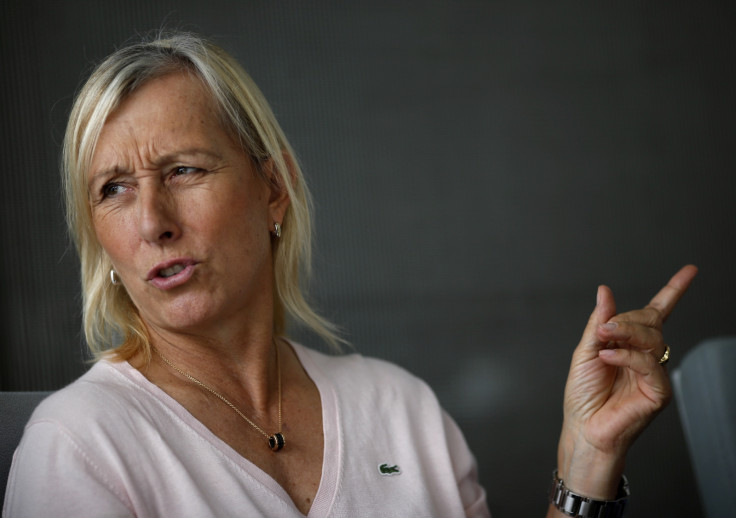 Martina Navratilova has taken personal offence to Margaret Court's latest homophobic rant. She released an open letter criticising the 74-year-old retired tennis player's decision to not fly Qantas because the CEO Alan Joyce supported same-sex marriage.
Addressing the letter to the Margaret Court Arena in Melbourne, 18-time grand slam singles title winner Navratilova explained that to have a venue named after someone, the person required to be a good human being as well as a successful one.
"It is not just for what this person did on the field, on the court, in politics, arts or science, for instance, but also for who they are as human beings," she wrote in the article published by The Sydney Morning Herald.
Bringing in the personal connect, Navratilova said she did not hold a grudge against Court for comments made in 1990 in which she said that she (Navratilova) was "a bad role model because I was a lesbian."
Navratilova, however, did bring up the racist comments the Australian sportswoman and Christian pastor made in the 70s about apartheid in South Africa. "Saying that South Africa dealt with the 'situation' (meaning people of colour) much better than anywhere else in the world, particularly the US: what exactly did she mean by that?" the Czech-American wrote.
Describing the Qantas comment as "bad enough", she said Court's dangerous and wrong comment was suggesting that older women were luring young girls on the tour parties to turn them into lesbians. "It's a good thing she didn't name anyone as I am pretty sure she would be sued for defamation," Navratilova warned.
"It is now clear exactly who Court is: an amazing tennis player, and a racist and a homophobe. Her vitriol is not just an opinion. She is actively trying to keep LGBT people from getting equal rights (note to Court: we are human beings, too). She is demonising trans kids and trans adults everywhere.
"And now, linking LGBT to Nazis, communists, the devil? This is not OK. This is in fact sick and it is dangerous."
Concluding her message to the sporting arena, the 60-year-old explained that this was why she thinks it is time for a name change. "And I think the Evonne Goolagong Arena has a great ring to it. Now there is a person we can all celebrate," she said on a final note.