Mass-demonstration planned for Iranian presidential visit to Paris amid human-rights allegations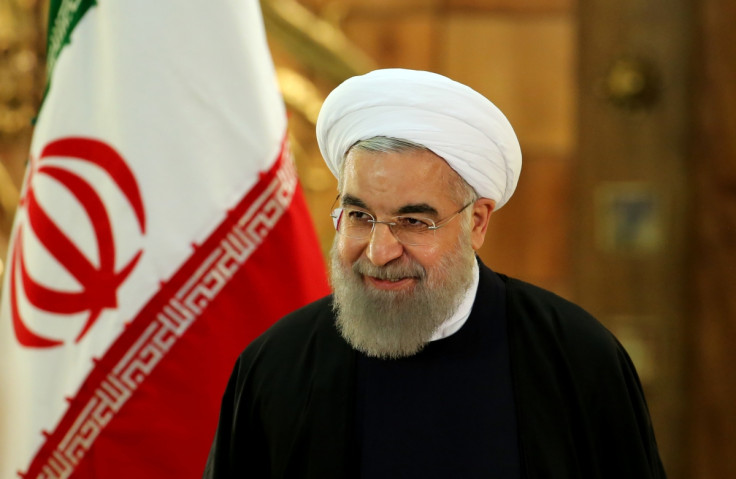 Thousands of Iranians are expected to join a mass-demonstration against Iran's president Hassan Rouhani during his visit to Paris on 28 January 2016. Members of the Iranian resistance are expected to be joined by exiled and ex-pat Iranians as well as human-rights protesters, hoping to raise awareness of the various abuses perpetrated by Rouhani's regime.
In an interview with IBTimesUK, Hossein Abedini, UK spokesperson and member of the National Council of Resistance of Iran (NCRI), said: "There will be thousands of people going to Paris to demonstrate, we want people to see that Rouhani is the smiling face of a religious dictatorship. "We want the world to realise the time has come to support the real moderates in Iran, not the fake ones."
Rouhani's tour of Europe, including a visit to Italy as well as France, takes place less than two weeks after the 16 January lifting of economic sanctions on the Islamic republic in response to its scaling back its nuclear programme and compliance with the International Atomic Energy Agency's recommendations.
The visit, Rouhani's first to the continent in 16 years, is expected to have significant economic benefits for Iran, with an expected $18bn (£13bn) of deals being signed with Italy and aviation deals expected with French companies. But Abedini said businesses hoping to get a piece of the newly available pie in Iran must be made aware of the country's internal politics.
"People are fed up after 35 years of a religious dictatorship that has executed 120,000 people, not to mention thousands of executions that have happened secretly," he alleged. "Torture, stoning – these have been going on under Rouhani.
"He came in with hollow promises to stop human rights violations in Iran, but they have been happening, as well as attacks on religious minorities and executions. The people who are taking part in the demonstration on Thursday want to show the people who are scrabbling to get a piece of the new market in Iran not to close their eyes to this, and to ask for an end to execution, especially of juveniles and women."
The mass demonstration comes just weeks into 2016, during which time more than 52 people have been executed in Iran, with a report by Amnesty International published on 25 January stating that as many as 160 juvenile offenders were currently awaiting execution in the Islamic republic.
In a statement supporting the upcoming protests, Lord Carlile QC, who was co-chair of the British Parliamentary Committee for Iran Freedom and Independent Reviewer of Terrorism Legislation from 2001-11, said: "To decouple Tehran's human rights abuses and its support for terrorism and Islamic fundamentalism from the nuclear negotiation was a mistake.
"However, with the nuclear dossier now concluded, our policy vis-à-vis Tehran regime must focus on human rights and stopping executions in Iran.
"I join thousands of Iranians and human rights activists who will protest against Hassan Rouhani on 28th of January at a rally in Paris to call on the European leaders, in particular the French government, to make any improvements of relation with Tehran contingent upon an end to executions, public hangings, torture and arbitrary arrests in Iran."
As well as the demonstration, the NCRI said there would be a week of activities around Rouhani's visit, including an exhibit about various human-rights abuses allegedly carried out under Iran's incumbent president.
But despite the attempts of the NCRI and others to highlight alleged human-rights abuses in the country, Abedini said the removal of sanction in the country actually came as positive news.
"There were a lot of illegitimate concessions to the regime, but we believe that after this deal the regime has become weaker," he said.
"Iranian people are now asking for their salaries. Some people have not been paid for months, and they were told it was because there was no money because of the sanctions.
"Last week there were protests by students, workers, and the situation is volatile at present. The regime is now telling people not to expect as much, but the people are not going to wait for long – and we believe the money is not going to be spent on the people. So the sanctions relief has taken away that excuse." Abedini added: "The best people to speak about this are the Iranian people themselves...
"Iranian people have always wanted to be free. What the NCRI wants to see a free, democratic government established in Iran and we want an Iran free of capital punishments, free of the death penalty free of nuclear activity, and with equality between men and women."
© Copyright IBTimes 2023. All rights reserved.