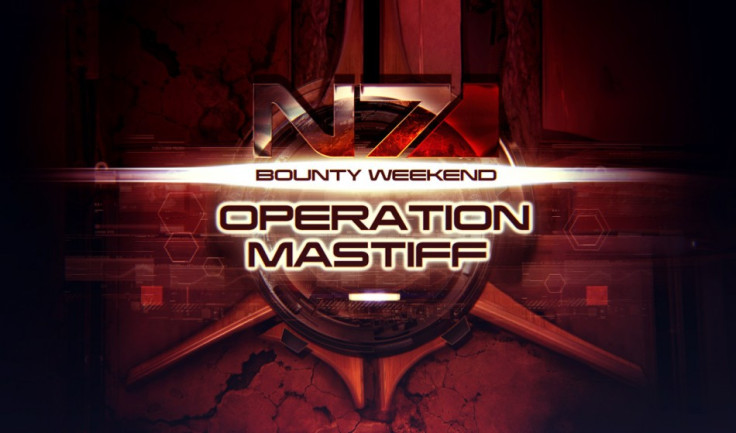 BioWare recently revealed the next N7 Mission for the immensely popular multiplayer weekend for Mass Effect 3 (ME3) that is poised to hit the consoles and PCs on 8 June. PS3 version of the multiplayer game is now available, thanks to BioWare's renewed efforts in taking the game to the masses. The new weekend mission puts you on the battlefield to combat Reapers and win special character class skins and goodies.
The complete details of the upcoming multiplayer weekend are given below:
Operation MASTIFF (June 8th-10th)
"We are dropping the new reinforcements onto occupied worlds to supplement resistance movements. Retrieving data of how the Reapers conquered those worlds is of paramount importance," reads the message on BioWare's official game site.
Allied Goal: Complete 100K retrieval missions.
Personal Goal: Extraction on Silver difficulty with one squad member of the Rebellion Pack, classes: Vorcha, Phoenix Project Defectors, or Quarian Male.
Special Circumstance: None.
Completion of the personal goal awards the player a Commendation Pack
Completion of the Allied goal awards all players a Victory Pack that has a guaranteed N7 weapon
Operation Mastiff begins at 6pm PST Friday, 8 June and ends at 4am PST Monday, 11 June
Packs will be distributed Tuesday evening on successful completion of the mission
In related news, ME3 has won the title 'single best piece of software' announced for Wii, according to a VideoGamer report citing Electronic Arts (EA) CEO, John Riccitiello addressing investors during an overnight conference call.
"We looked at the Wii U launch line-up yesterday and we're very pleased there was a lot of applause for ME3, in fact I think it got one of the loudest applauses, so we're pleased that people see it as the single best piece of software that's been announced for the platform," asserts Riccitiello.
There were no other details revealed about what the game (ME3) promises to deliver at Nintendo's E3 press conference, except for the game maker's offer to lend gamepad functionality for Wii U through software support.
To watch the Wii U's Gamepad in action through a video demo, click here.