'Mass Effect 3: Operation Shieldwall' Multiplayer Weekend Punishes Players [SPOILERS]
- BioWare Sets Tougher Goals in the Forthcoming Multiplayer Weekend - 'Operation Shieldwall'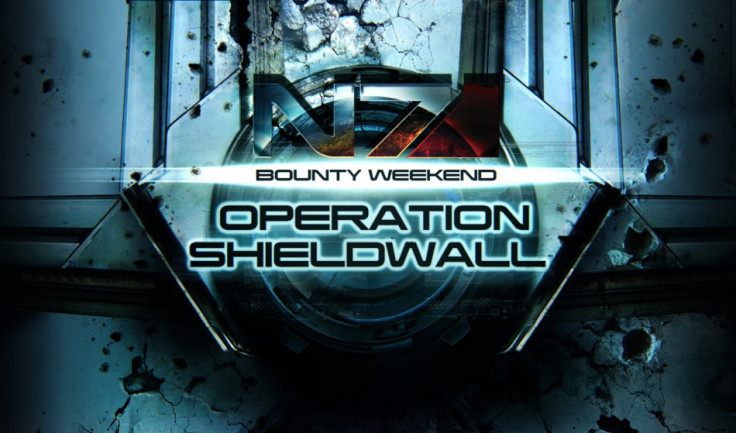 For the first time in the history of Mass Effect 3's (ME3) multiplayer weekend challenges, the gamer community has failed to complete a weekend challenge. The players' inability to complete the mission: Operation Silencer, has prompted BioWare to set tougher goals for the forthcoming weekend challenge - Operation Shieldwall.
Operation Silencer challenged players with a bounty to kill 3,000,000 Banshees and now the mission failure has triggered an explosion in the Banshees' numbers, as BioWare strives hard to boost interest among the gaming community. Banshees' population is expected to grow with each match against Reaper forces, as they will spawn alongside other enemies, reports Cinemablend.
During Operation Shieldwall, players will be tasked with the community's collective goal of promoting 50,000 characters, while players' individual squad goal is to promote three characters. Accomplishing both the community and squad goals will earn players a Victory Pack as well as a Commendation Pack respectively. An interesting tidbit is that a Victory Pack will give you a great chance of securing a rare weapon.
Operation Shieldwall gets underway on Friday, 25 May at 6 pm PST. The multiplayer challenge will end at 5 pm PST on Sunday, 27 May. The weekend event is available on all three platforms - Xbox 360, PS3 and PC. Players are advised to enable "Upload Gameplay Feedback" in their game options menu, so that their scores are uploaded to the server for redeeming multiplayer rewards. PS3 players, however, will not see the promotion screen due to a bug but their scores will still be recorded.
It is quite an intriguing prospect that BioWare has implemented the consequences of a mission failure in the upcoming weekend challenge. Such a move should not only inspire players to put better co-operative gameplay but also ensure continuity with the previous multiplayer missions, accomplishments and failures for a refreshing experience. We wish the multiplayer campaigns would also integrate narrative, story-based missions similar to single-player campaigns for an integrated feel with the rest of the ME universe.
MUST READ: 'Mass Effect 3: Extended Cut' DLC: Admiral Hackett and EDI Will Be Back [SPOILERS & VIDEO]
MUST READ: 'Mass Effect: Infiltrator' Now Available on Android Devices [TRAILER]

© Copyright IBTimes 2023. All rights reserved.