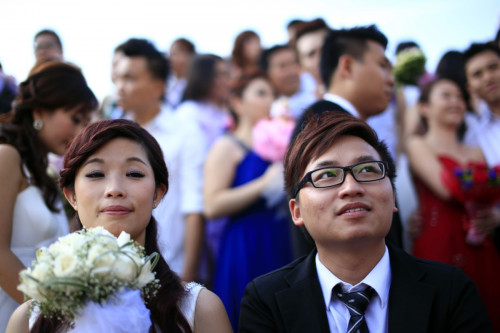 As many as 138 couples tied the knot in a mass wedding on Valentine's Day in Malaysia despite stern warnings by Islamic hardliners not to observe the western practice.
The weddings were held at Thean Hou temple in Kuala Lumpur, which has conducted many widely-covered mass weddings on "auspicious" dates in the past.
The Malaysian Islamic Development Department, an official watchdog of Islamic values in the country, had issued warnings against celebrating Valentine's Day in the Muslim-majority country.
"Social ceremonies such as this are a stepping-stone towards greater social ills such as fraud, mental disorder caused by alcohol, abortion and baby-dumping, and other negative ills that can invite disaster and moral decay among youths," the department said, according to the Agence France-Presse.
About 61% of Malaysia's population follows Islam, while the largest religious minority is Buddhists who constitute about 20% of the population.
The couples who married on Valentine's Day were of Chinese origin.
Muslim groups in Malaysia consider the V-day celebrations a grave threat to Islamic values, and they are determined to "shield" the Muslim youth from western practices.
In 2011, more than 100 Muslim couples were arrested for celebrating Valentine's Day and tried under Sharia law for religious and moral offences.
Pink leaflets
The government of Malaysia distributed pink-coloured leaflets to high-school students, along with guidelines on why Valentine Day is a snare, and "haram" (banned).
However, the distribution of pink leaflets was a surprise in the state of Selangore as even Valentine accessories such as pink-coloured envelopes are considered a taboo in the country.
For the students, official distribution of pink leaflets was an amusing indulgence by the authorities, who otherwise strictly enforce a formal and conservative environment.
"I think most of us have been taught in class about why celebrating Valentine's Day is considered haram," Mohd Ibrahim Faiq Hussein, a student, told New Straits Times.
"Seeing them (the officials) talking to students about it was unexpected", Hussein added.
Even though the students do not celebrate Valentine's Day, they hardly know why it is prohibited, so many welcomed the "educative" new campaign, the report said.
"I suppose this campaign is helpful to those who want to know why we should not take part," Nadia Amyra Azirudyn, another student said.
But non-Muslims at the school reportedly celebrated the V-Day.