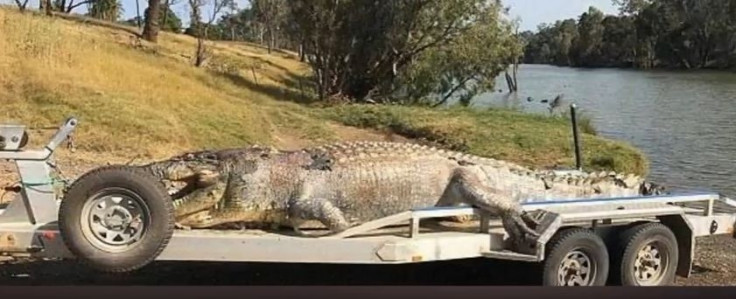 Police and state environmental officers in Australia's Queensland state have launched a manhunt for the killer of a monster 5.2metre saltwater crocodile.
The male reptile, which is being touted as one of the biggest ever spotted in Queensland, was found with a bullet in its head on Thursday (21 September) in the Fitzroy River in Rockhampton, police reportedly said.
Authorities suspect the crocodile had been dead for a few days before a person in the area spotted it floating in the river and notified environmental officers. Police have warned people living near the spot to be more vigilant as the crocodile's death will create a "vacant" position in the local crocodile pecking order, prompting other young males to fight for the spot.
"People need to clearly understand that the death of this animal has changed the balance of the crocodile population in the Fitzroy and we can expect increased aggressive activity by younger male crocodiles," Michael Joyce from the department of Environment and Heritage Protection Conservation and Biodiversity Operations told the Rockhampton Morning Bulletin.
He added: "That's because they will be competing to take the dominant position which is now vacant. I cannot stress strongly enough the need for all river users to be aware of the risks and to be Crocwise."
The dead crocodile's body was taken to the nearby Koorana Crocodile Farm for a necropsy (animal postmortem), following which the body will be buried in the farm.
Farm owner John Leaver told Australian Associated Press that a 5metre-long crocodile had not been caught in Queensland for up to 30 years. "There may have been some others shot in the wild that we don't know about, but from my recollection, over the past three decades this would be the largest," he added.
Leaver said that the largest crocodile he ever caught in the area was 4.5 metre long in the late 1980s. "We caught that one up near Airlie Beach," he said and added that back in the 1950s, it was not illegal to kill crocodiles and people used to hunt them down.
However, it became a punishable offence under the Nature Conservation Act 1992.
Leaver said that the bullet that hit the reptile caused a large hole in the top of its skull, suggesting the bullet came from a "fairly large calibre rifle". He added that someone might have "felt very threatened" to shoot the monster crocodile.