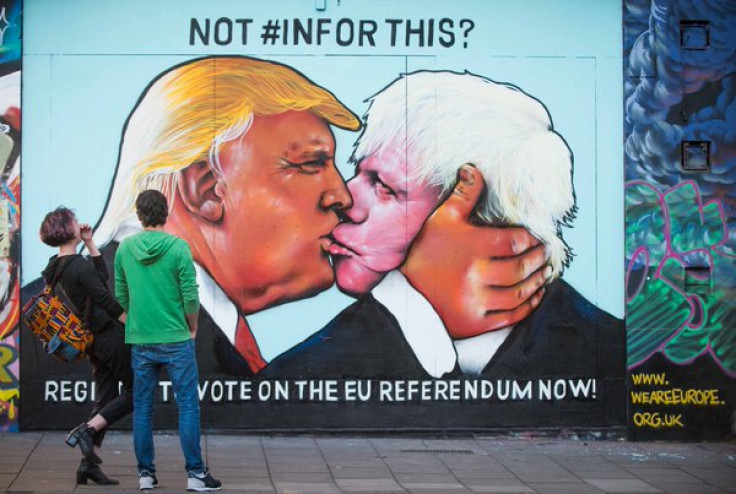 A huge piece of graffiti depicting Boris Johnson and Donald Trump kissing has popped up on a building in Bristol.
The image, which is already being shared widely on social media, is an anti-Brexit piece featuring the caption "Not #infor this" above the kissing politicians, with the words "register to vote in the EU Referendum now" below it.
Johnson is leading the charge in favour of Brexit, while Trump has said he isn't backing either side but his personal view is in favour of leaving, and the mocking image of the pair has been shared on Twitter by pro-EU group We Are Europe.
"I think that Britain will separate from the EU, I think maybe it's time especially in light of what's happened with the craziness that's going on with the migration, with people pouring in all over the place – I think that Britain will end up separating from the EU," Trump said in an interview with Piers Morgan on ITV's Good Morning Britain in March.
"That's my opinion, I'm not endorsing it one way or the other but [in] my opinion I think a lot of people want to see that happen."
He added in an interview with Fox News that he would say the UK "is better off without the EU but I'm not making that as a recommendation, just my feeling".
The graffiti, which was painted on Westmoreland House in Stokes Croft, follows a Trump design painted by another street artist, Pegasus, also in Bristol, in February that featured his head on Hitler's body, with the words: "Those who do not remember the past are condemned to repeat it".