Juan Mata believes that Tottenham Hotspur have a truly world class player in their ranks but fully expects his Chelsea side to overcome their London rivals and secure Champions League football for next season.
Victory over Spurs on Wednesday evening means Chelsea would be guaranteed a top four finish thanks to their superior goal difference, leaving Tottenham and Arsenal to battle it out for the one remaining place.
Mata is confident that Chelsea can beat Andre Villas-Boas' side but he is fully aware of the threat that will come from Gareth Bale who he believes can rightfully be called a world class footballer.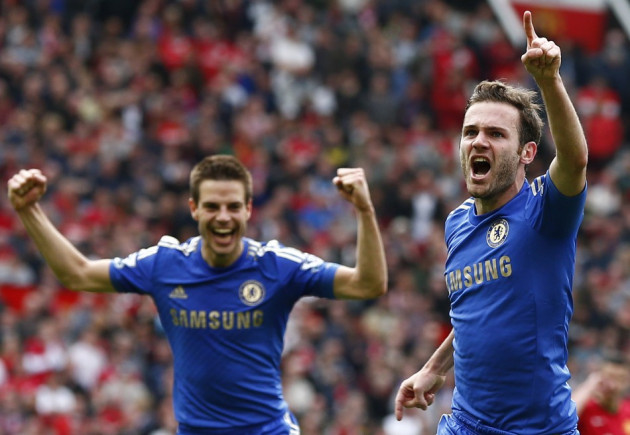 "For me Gareth is, right now, one of the best in the world," said Mata, as quoted in the Guardian. "Not just in England, not just in Europe - in the world. He is able to decide a game, as he did [at the weekend]. He has the pace, he has the quality, he is strong, he is very young. So he is very good right now, and he has a bright future for sure."
Bale helped Spurs secure a 1-0 win over Southampton at the weekend that kept the pressure up on Chelsea but Mata's 87th minute striker against Manchester United means they are in prime position to once again qualify for the Champions League.
"Tottenham is a team [who are] winning and winning: making pressure on us and Arsenal. So we are three teams fighting for two positions - and now we are third again. We play at home and I think if we win on Wednesday we will be almost for sure in the Champions League," explained Mata.
The Spanish playmaker has been in sensational form throughout the season and has been one of the few players to continuously voice his support to current Chelsea manager Rafa Benitez.
The former Liverpool boss remains unpopular amongst the Chelsea faithful but Mata believes he has proved that he is a good coach - though he is unsure what the future holds for Benitez.
Asked whether he believed he was a good manager, Mata responded.: "Well I think he is. Of course he is. He won a lot of things in so many clubs, and now he has a chance to win in every game. So let's see at the end of the season."