Matteo Renzi set to quit as Italy's ruling Democratic Party leader after dismal election results
Italy faces hung parliament after Eurosceptic and anti-immigration parties make gains.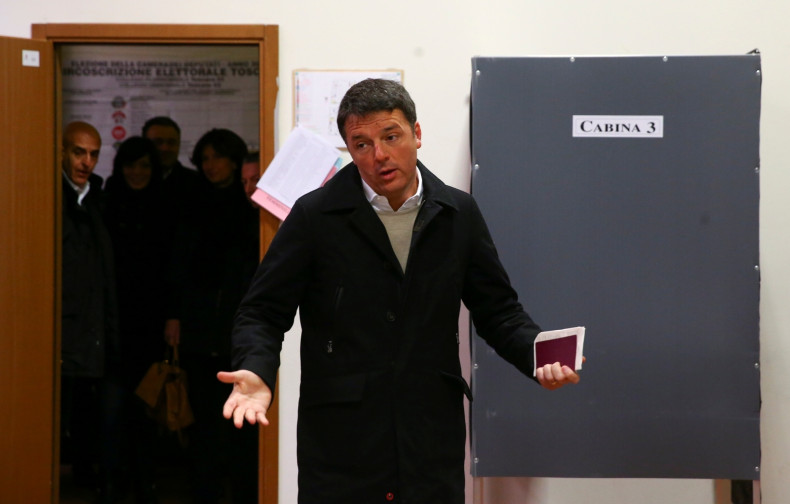 Former Italian prime minister Matteo Renzi is poised to stand down as leader of his party today (5 March) after a dismal showing in the country's elections.
The latest results, following Sunday's vote, show Renzi's governing centre-left Democratic Party on just 18.9% of the vote, less than a fifth of the national poll.
This leaves Italy facing a hung parliament after the country favoured more extreme, or more unorthodox, parties.
The Eurosceptic, anti-establishment Five Star Movement is set to become Italy's largest single party with 32.3% of the vote. It was founded in 2009 by comedian Beppe Grillo, who denounced cronyism in Italian politics.
But its power will be checked by the right-wing coalition, which also did well in the polls. The anti-immigration League received 17.6% of the vote, while the centre-right Forza Italia won 14% of the poll. Forza Italia is led by billionaire media mogul Silvio Berlusconi, who is also a former prime minister.
Forming a government between these disparate groups is likely to take weeks of negotiation.
But the immediate casualty of Italy's election looks set to be Renzi, according to news agency ANSA, amid the fallout of his second election defeat in just 15 months.
The former Florence mayor is set to deliver a speech late this afternoon (5 March) where his resignation is expected.
Clear and marked defeat
Democratic Party farm minister Maurizio Martina said the vote was "a clear and marked defeat".
Renzi, 43, is the leader of his party, but the Democratic Party prime minister is Paolo Gentiloni who was handed the role after Renzi resigned from the top job in December 2016, days after losing a referendum to introduce liberalising constitutional reforms.
This is a far cry from February 2014 when Renzi was voted in as Italy's youngest prime minister, aged just 39.
The youthful leader, who often wore jeans and spoke with his shirtsleeves rolled up, promised to sweep away red-tape and vested interests that have held back the Italian economy for decades.
But Italian voters abandoned him because they felt he made little progress with their concerns over institutional corruption, economic hardship and immigration.
When Renzi pushed ahead with his referendum over constitutional reform two years ago, his critics were successfully able to portray this as a naked attempt by him to centralise power.
The inability to get to grips with key voter worries over the last two years are likely to be behind the downfall of Renzi and his party today.
A buoyed League leader Matteo Salvini said that the voters had "punished the arrogance of Renzi and his people".