Maya Angelou, Poet and Civil Rights Crusader, Dies Aged 86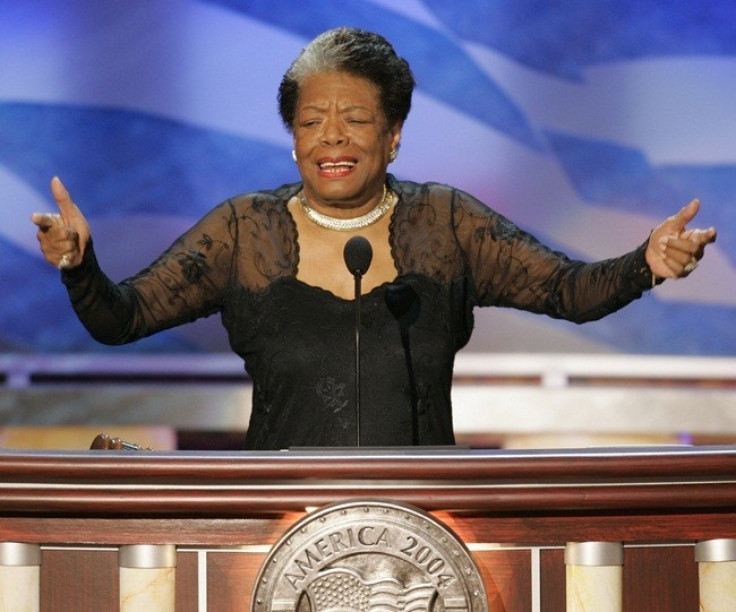 Popular poet and civil rights activist Dr Maya Angelou has died at the age of 86.
Angelou's death was confirmed by North Carolina Mayor Allen Joines, according toMyFox8.com. She was known to be suffering from health problems.
Along with her penetrative poetry in favour of equal rights, Angelou was famous for her work as a novelist, producer, actress and filmmaker. During her life she received more than 50 honorary degrees and was a Reynolds Professor of American Studies at Wake Forest University.
Her family posted on Facebook she passed away quietly in her home in Winston-Salem, North Carolina, at 08:00 EST (12:00 GMT).
"Her family is extremely grateful that her ascension was not belabored by a loss of acuity or comprehension. She lived a life as a teacher, activist, artist and human being. She was a warrior for equality, tolerance and peace. The family is extremely appreciative of the time we had with her and we know that she is looking down upon us with love."
She is famous for saying: "I've learned that people will forget what you said, people will forget what you did, but people will never forget how you made them feel."
In recognition of her work in promoting equality, Angelou served on two presidential committees, and was awarded the Presidential Medal for the Arts in 2000 as well as the Lincoln Medal in 2008. She was due to receive the "Beacon of Life Award" at the 2014 MLB Beacon Award Luncheon on 30 May.
She made her name with her 1969 memoir 'I Know Why the Caged Bird Sings', which dealt with the racism and family trauma of her childhood.
Her poetry collections included Just Give Me a Cool Drink of Water 'fore I Diiie (1971), And Still I Rise (1978), Now Sheba Sings the Song (1987) and I Shall Not Be Moved (1990).
People have taken to Twitter to pay tribute to the legend that she was.
© Copyright IBTimes 2023. All rights reserved.