Met police detectives have released CCTV footage of a man carving a hole into the roof of a red Porsche before climbing into the convertible sports car and trying to drive it away through London's exclusive Mayfair.
The incredible footage shows the man take a knife and start sawing through the roof of the car before taking a look into the car and then getting into it. Amazingly, the suspect carried on cutting through the roof even as pedestrians walk along Mill Street.
The incident, which happened at 7.45am on 29 September, 20 minutes before police were called to reports of grey Porsche Cayenne being scratched and the door lock damaged while parked on Carlos Place, Mayfair. A male matching the description of the man who broke into the red Porsche was seen to take out a lock knife with a 5in blade and try to gain entry into the vehicle.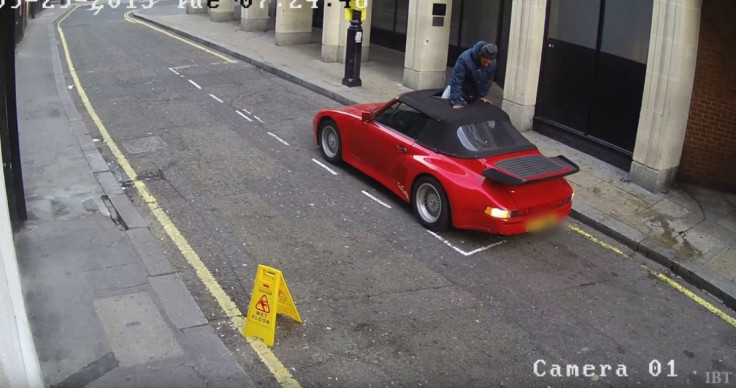 At 10.53am police were called to reports of a robbery at JD Sports on Oxford Street where a man, believed to be the same suspect, was seen trying to leave the shop with stolen trainers, a sports top and tracksuit bottoms. When staff challenged the man he threatened them with a lock knife.
CCTV near the red Porsche captures a man approaching the parked car, looking inside and then cutting open the roof with a knife. Once inside he tried to drive off in the car, failed and later left through the cut roof.
The suspect is described as a black man in his 20s, 6ft tall with black hair and a dark beard. He was wearing a blue puffer jacket, white jeans and a grey beanie hat.
Police are appealing for anyone who recognises this man, or who has any information that could assist the investigation to come forward. They can call police on 101 quoting image 191011 or Crimestoppers anonymously on 0800 555 111.
The incident comes one month after a man was videoed keying an Aston Martin in Hackney, east London.