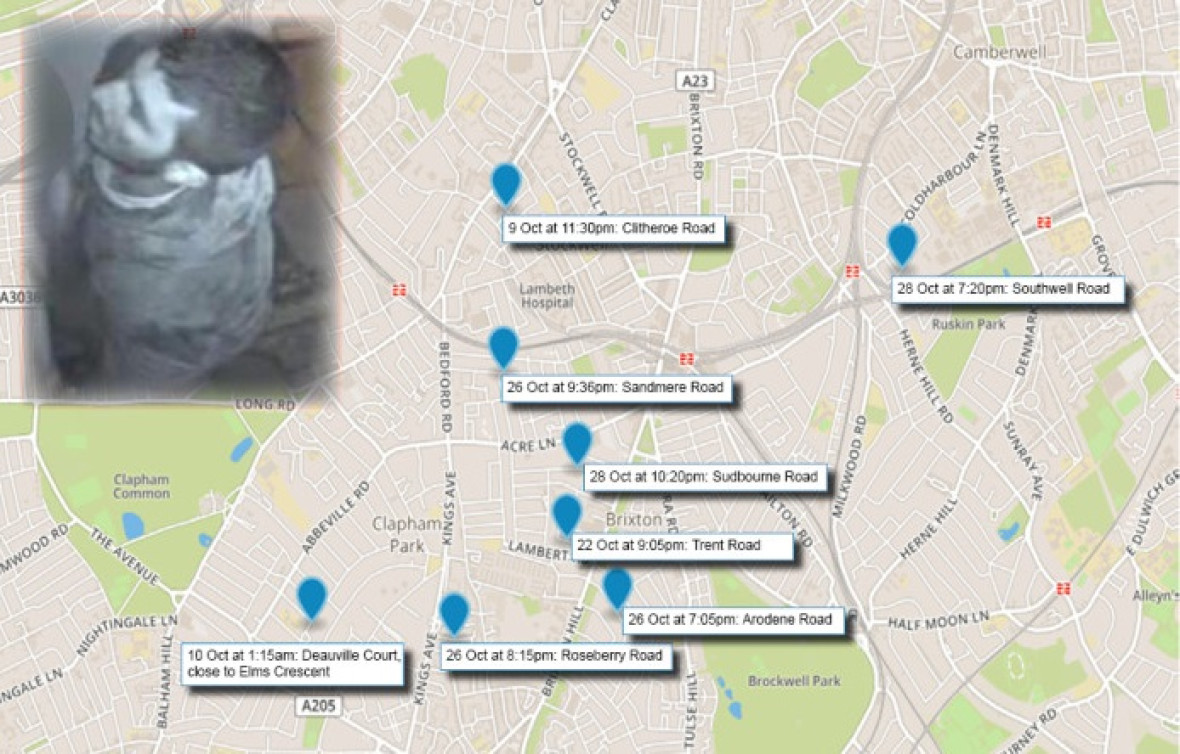 A serial sex offender is thought to have struck for the ninth time after a woman reported being assaulted in Clapham, south London. Police were called to Edithna Street shortly after 5.40pm on Saturday (31 October) after a woman was approached by a man whilst her back was turned. The suspect proceeded to touch the woman on her backside multiple times before the victim called for help and the attacker fled in the direction of Landor Road. His description matches those of similar assaults in the area.
The attack comes after a 34-year-old man was released on bail over eight sexual assaults in the Clapham and Brixton Hill. He was released pending further inquiries until mid-December. Previously, a 30-year-old man was arrested on 27 October and was bailed to return to a south London police station in November pending further enquiries.
In all eight cases the suspect is described as being of Mediterranean or Middle-Eastern appearance with dark hair. The victims have all been white females aged in their 20s or early 30s.
Police patrols have been stepped up in response to the spate of attacks and Chief Inspector Tony Hirst of Lambeth borough, warned females to be vigilant. "We are following up enquiries on this latest sexual assault," he said.
"At this early stage, it is being linked to the previous eight assaults. I would like to reassure the public that we have increased police patrols in Clapham and Brixton Hill areas. Detectives continue to study CCTV and are following up a number of active leads.
"I would like to remind everyone in the area to take sensible precautions: be aware of your surroundings and who is around you. If you feel uneasy about an individual or situation, trust your instincts. Always call police if you feel in danger."
Spate of attacks

A 23-year-old woman (victim 1) was grabbed and sexually assaulted along Clitheroe Road, Clapham on on Friday, 9 October at 11.30pm.

A 30-year-old woman (victim 2) was walking along Deauville Court, close to Elms Crescent, on Saturday, 10 October at 1:15am, when a man approached and tried to engage her in conversation. When she asked him to leave her alone he grabbed and assaulted her before walking away.

On 22 October at 9.05pm a woman was followed along Trent Road before a man placed his hand up her dress. The 32-year-old woman (victim 3) reported the incident to local officers.

Four days later on Monday, 26 October at 7.05pm along Arodene Road, Clapham, a 35-year-old woman (victim 4) was grabbed from behind as she walked home.

Less than an hour later at 8.15pm, CCTV footage was captured along nearby Roseberry Road, as a woman in her 20s (victim 5) attempted to enter her home address.

Again on the same night, at 9.36pm, a 28-year-old woman (victim 6) had just arrived home along Sandmere Road, Clapham, when she noticed a man standing on the opposite side of her street. He had pulled down his lower clothing to deliberately expose himself. The woman managed to get into her house and alert police.

On Wednesday, 28 October two further incidents were reported. At 7.20pm a 28-year-old woman (victim 7) had been approaching her home along Southwell Road when a man grabbed her. She screamed and he fled the scene.

Three hours later on the same night a 31-year-old woman (victim 8) had been heading home when she was pushed by a suspect into a nearby block of flats along Sudbourne Road. She was sexually assaulted before the suspect ran away.