After spending 23 hours a day in a cell for two months Floyd Mayweather returned to his gym and immediately laced on the gloves. He wanted to know, 'have I still got it'. On Saturday night in Las Vegas the 36-year-old answered his own question in emphatic fashion as he put on a boxing masterclass against six-time world champion Robert Guerrero.
Some had questioned whether Mayweather's skills were on the wane after a laboured, but still decisive victory over Miguel Cotto. They then wondered how his body would cope after a prison sentence that saw him unable to properly train and maintain his carefully planned nutritional regime.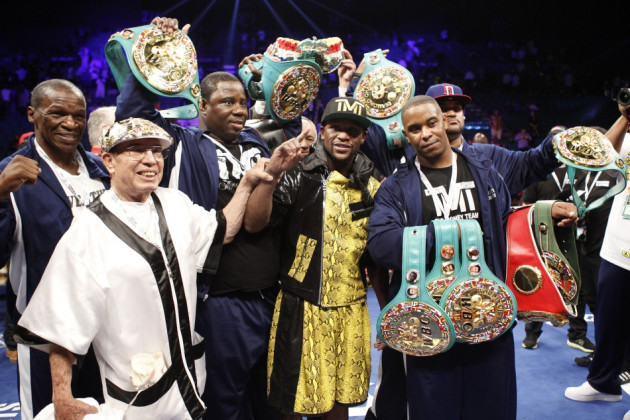 All of those concerns evaporated after twelve scintillating rounds that saw Mayweather back to his very best as he dominated Guerrero from start to finish. The Californian Mexican was barely able to win a round as he was startlingly outclassed. He struggled to cope with Mayweather's speed, precision and almost impenetrable defence.
This was Mayweather's 44th professional victory and it proved that he is still the best pound-for-pound boxer in the world today. He is also one of the most marketable athletes on the planet, as proven by him banking a staggering $85million in 2012.
Fortunately the world will have the pleasure of watching this supreme talent in action on another five occasions. Mayweather's six fight deal with American television company Showtime means he will be back in a ring in September and it seems as though an opponent has already been lined up.
Scheduled to fight again at the MGM Grand Garden Arena on 14 September, on the weekend of Mexican Independence Day, Mayweather is expected to face Mexican sensation Saul Alvarez.
El Canelo has a huge fanbase and has been handpicked by Oscar de la Hoya to become the new golden boy of boxing. The 22-year-old has already chalked up 42 victories and put in an outstanding display back in April as he outpointed American Austin Trout.
Alvarez against Mayweather would be a huge seller and with both fighters having just recorded victories it makes sense for this to happen in September. Mayweather knows that the Mexican is gradually improving, and getting physically stronger, with each fight and may decide that the time is right to try and inflict a first loss.
Richard Schaefer, the chief executive of Golden Boy Promotions, Mayweather's promotion partners, suggested that he would know before the end of the week whether Alvarez would be the American's next opponent.
"There are lots of possibilities," Schaefer said. "I expect to know in the next few days about Canelo, but I know he is not afraid to fight anyone. If Amir Khan wins his next fight, probably in December and especially if he moves up to welterweight to fight Devon Alexander, then maybe he too will get a chance."
Golden Boy also work with Khan and they have big plans for the Briton who came through another war to register a victory over Julio Diaz in Sheffield last month. Should the former Olympian continue to win then he may well be in line to face Mayweather early next year.
The Mayweather camp have indicated that they would be interested in coming over to the UK as they know that it would be another massive money spinner and right now, Khan is the only British fighter on the radar.
Floyd Mayweather Snr, who ended a 13-year feud to once again work in his son's corner, admitted that Khan was a possibility, saying: "Oh yeah, we're coming for him, don't worry about that. We are going to smash him."
For now Mayweather will return to his home in Las Vegas and the sideshow will stop. When not selling a fight he is a much more humble character than the flash, arrogant fighter he portrays for the cameras. He also remains one of the most dedicated fighters in the sport and that is why his legacy continues to grow.
We may only see him inside the squared circle on another five occasions, so we need to make the most of his genius.