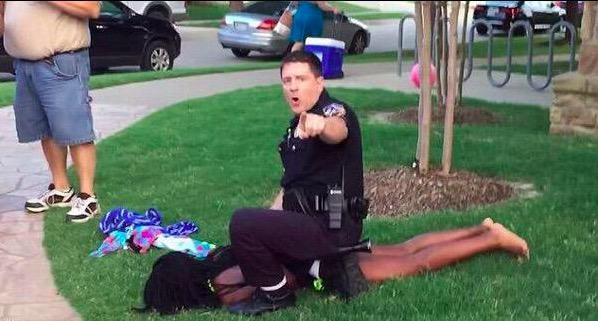 A police officer who was filmed pinning a 14-year-old girl in a bikini to the ground at a pool party, is in hiding after receiving death threats.
David Casebolt was suspended after he was videoed pointing a gun at children and brutally manhandling a young black girl, after responding to a disturbance at the Craig Ranch North Community Pool on 5 June.
The shocking video was quickly circulated on social media sparking outrage, prompting the McKinney Texas police officer to resign in the wake of the scandal.
His lawyer Jane Bishkin said Casebolt hoped his resignation would draw a line under the controversy, however she revealed he is now in hiding at an undisclosed location after death threats were sent to the police department.
"He's worried for his family," she said.
Bishkin defended her client's action saying he was not targeting minorities last week and had also arrested a white female during the incident. She explained that his aggressive reaction at the pool party was the result of the stress of handling two suicide calls earlier that day.
"Eric regrets that his conduct portrayed him and his department in a negative light," she added. "He never intended to mistreat anyone."
In the video, shot by a bystander Casebolt is seen grabbing a young black girl wearing a bikini, by the hair. Accosting her, he brutally forces her to the ground as the distraught girl urges her friends: "Call my mama. Call my mama."
With his knee in her back, he forces her head towards the ground. As two young, unarmed boys approach him, he pulls his gun out and points it at them. The children aged around 14, are heard pleading with the officers saying: "Sir, we just came for a birthday party. Please."
Police Chief Greg Conley condemned the officer's action saying his treatment of the children was "indefensible".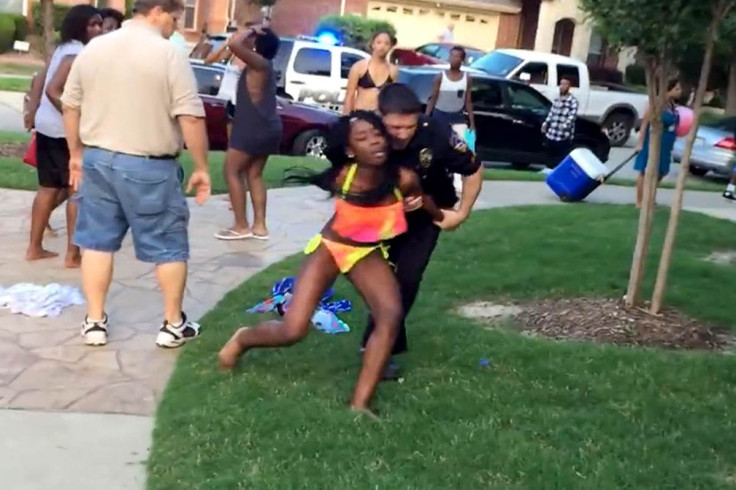 Speaking at a news conference he said: "In all, 12 officers responded to the report of fights and a disturbance at the pool party at the Craig Ranch North Community Pool. Eleven of them performed according to their training. He came into the call out of control and the video showed he was out of control during the incident."
While the officer has faced widespread condemnation, some quarters of the wider community have appeared to defend him.
Fox News presenter Megyn Kelly seemed to suggest that the officer was justified for slamming a 14-year-old girl to the ground because she disobeyed a police officer's commands. During her "The Kelly File" broadcast Monday evening, the cable news host is reported to have said "the girl was no saint either."
"He had told her to leave, and she continued to linger," Kelly said in a segment about police brutality protests in McKinney. "When the cop tells you to leave, get out."
Kelly, however, insisted she was not condoning Casebolt's actions. "I'm not defending his actions, let me make that clear," she said.
Protesters claim that the McKinney incident is evidence of the unnecessary use of force by police against black Americans and inherent institutionalised racism in the police force.
Casebolt was initially placed on administrative leave. It was announced on 9 June that the 41-year-old would leave the McKinney Police Department after almost 10 years on the force.
National and local civil rights leaders are now calling for the disgraced police officer to face criminal charges for his brutality against children.
The matter is under investigation and no decision has been made as to whether charges will be filed against him.