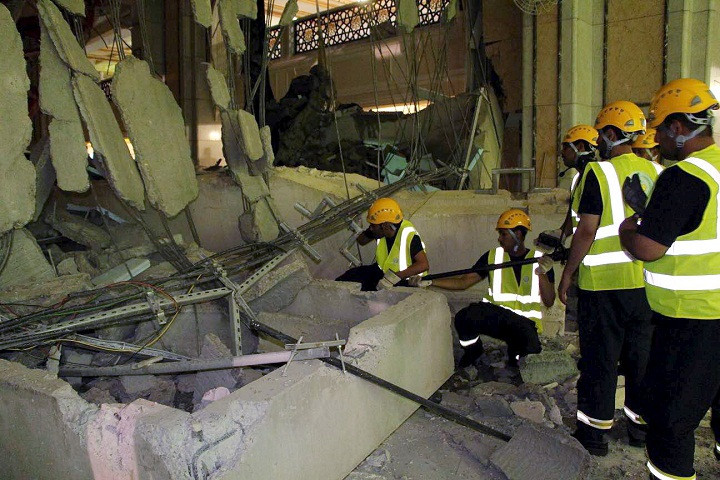 Saudi Arabia's King Salman bin Abdulaziz has ordered the powerful Saudi Binladin Group to pay one million Saudi Riyals (£173,800) to the families of each of the victims who died in the collapse of a construction crane at Mecca's Grand Mosque. At least 107 people were killed and 400 injured in the disaster during a severe thunderstorm accompanied by violent winds days before the Hajj pilgrimage.
According to the Saudi Press Agency (SPA), anybody who suffered permanent disability would also receive the same one million riyals in compensation. Others injured in the accident are to get half a million riyals each. In addition, the king has said victims can fight for their private rights separately.
An investigative commission concluded that the Saudi company "was in part responsible" for the 11 September tragedy. The commission said the crane had been erected in a way that deviated from the manufacturer's instructions, causing it to crash in high winds.
The Binladin Group was founded more than 80 years ago by the father of slain al-Qaeda leader Osama bin Laden, and is run by Osama's brother Bakr. Binladin has not released any statements about the crane collapse and its representatives have not been available for comment.
The Binladin Group has been suspended from accepting new public contracts and the members of its board and senior executives have been barred from leaving the country pending completion of legal action against the company.
The construction firm had been working for four years on a 400,000 square metre (4.3 million square feet) expansion of the Grand Mosque to accommodate roughly two million people.