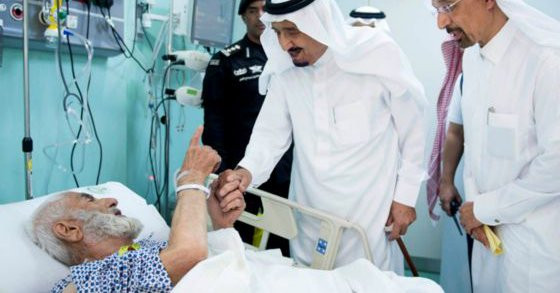 King Salman bin Abdulaziz of Saudi Arabia has visited the victims of the crane disaster in the Grand Mosque in Mecca. 107 people were killed and at least 238 were injured when the construction crane crashed into the roof of the mosque where Hajj pilgrims circle the Kaaba to pray.
After visiting the site, King Salman pledged to carry out an investigation into the incident. Al Aabia quoted the King as saying: "We will investigate all the reasons and afterwards declare the results to the citizens". Expressing his condolences to the families of the dead, he then visited a local hospital "to check on the health of the injured", the official Saudi Press Agency said.
The tragic incident occurred shortly before the 6:30pm Friday evening prayer session in an outer area of the mosque, which is the largest in the world. High winds and thunderstorms sent the crane crashing through the ceiling of the mosque which surrounds Islam's holiest place, the Kaaba. Pictures on social media show the crane being struck by a bolt of lightning.
Saudi authorities began a major expansion of the site last year to increase the area of the mosque by 400,000 sq m (4.3m sq ft), to allow it to accommodate up to 2.2 million people at once. An engineer for the Saudi Binladin Group, the developer, told AFP the crane had been installed in "an extremely professional way" and that there had been no technical problem. "It was an act of God," he said.
Sheikh Ahmed al-Ghamdi, former head of Mecca's religious police, told AFP that the accident was a "test" from God. "We need to accept what happened," he said, at the same time calling for a thorough investigation.
Irfan al-Alawi, co-founder of the Mecca-based Islamic Heritage Research Foundation, suggested the authorities had been negligent by having a series of cranes overlooking the mosque. "They do not care about the heritage, and they do not care about health and safety," he told AFP.
Parts of the Grand Mosque remained sealed off on Saturday as repair work continues.
The Hajj pilgrimage will begin on September 21 leaving time for the affected area of the mosque to be repaired. The annual pilgrimage is one of the largest religious festivals in the world, and last year drew two million worshipers to the holy site from 160 countries.
A Saudi official said the hajj, expected to start on 21 September, would go ahead despite the tragedy. "It definitely will not affect the hajj this season, and the affected part will probably be fixed in a few days," said the official
A committee decreed by the Emir of Makkah, Prince Khaled Al Faisal, is examining the cause of the deadly collapse. The contractor, engaged in a major expansion of the mosque, has been ordered to check the safety of all other cranes at the site.