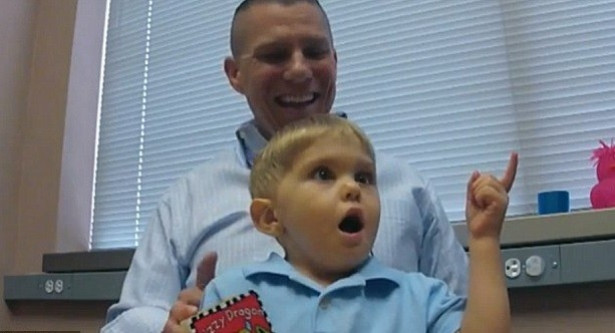 A three-year-old boy who was born deaf has been able to hear for the first time in a groundbreaking medical trial.
Grayson Clamp, of Charlotte, North Carolina, was born without cochlear nerves, which act like a bridge in the ear to enable the brain to process sound.
Grayson was finally able to hear his father's voice after a microchip, designed to process and recognise sounds which travel through the ear, was implanted in his brain.
The procedure, an auditory brainstem implant, took place at UNC Hospital in Chapel Hill.
The implants have been used on adults in the US since 1979 but researchers have never before tested the device on children, although it is approved for use in children in Europe.
The moment Grayson's device was installed and went active was captured in video posted online:
In the 30-second clip, Grayson's face can be seen lighting up in astonishment after he hears his father Len say "Daddy loves you."
"We don't know exactly what it's like for him," said Grayson's mother, Nicole. "We don't know exactly what he hears. His brain is still trying organise itself to use sound."
"It's been phenomenal for us," his father added.
The Clamps now plan to teach Grayson, who was adopted as a newborn after he was placed in foster care, how to process the sound.