The Tupac Shakur biopic has reportedly been delayed over a song licensing issue. All Eyez On Me was expected for release in September 2016 to coincide with the 20th anniversary of the US rapper's death but a report now claims it will not hit cinemas until November.
According to TMZ, rapper Daz Dillinger has taken issue with his song Ambitionz Az A Ridah being used throughout the film. The track can be heard in the official trailer, which premiered in June 2016, but Dillinger claims to own the rights to the song and producers allegedly do not have permission to use. Publishing house BMG are said to have control of green lighting use of the track and the project will be put on hold so the company and Dillinger can resolve the issue.
Dillinger, 43, is best known as a member of Snoop Dogg's Tha Dogg Pound collective and for working with Death Row Records, the record label Tupac was signed to at the time of his death in 1996.
Dillinger is said to have a fraught relationship with BMG and reportedly sued the company in April 2016, claiming he is owed $75,000 (£56,800) in royalties. However, the publishers say Dillinger's issue should be with music licensing company eOne who own the rights to his music – BMG simply collect and distribute the royalties on eOne's behalf.
Morgan Creek, the production company helming All Eyez On Me, have never announced an official release date. Although, Demetrius Shipp Jr, who plays Tupac in the film, told IBTimes UK in June that the team were pushing for a September release date to mark the two decades since Tupac was killed.
The biopic, which also stars Danai Gurira, Kat Graham and Lauren Cohan, chronicles the life and career of Tupac until his passing on 13 September 1996 after being shot in a drive-by shooting.
Revealing what it was like to shoot the death scene, Shipp Jr told IBTimes UK: "That was the hardest because it all connected with his story. I felt for him but in a different way because playing him, I wanted people to understand him because for it all to end with that scene, it was like I understand why his life was cut short and he was really misunderstood on a lot of things and betrayed in a lot of ways."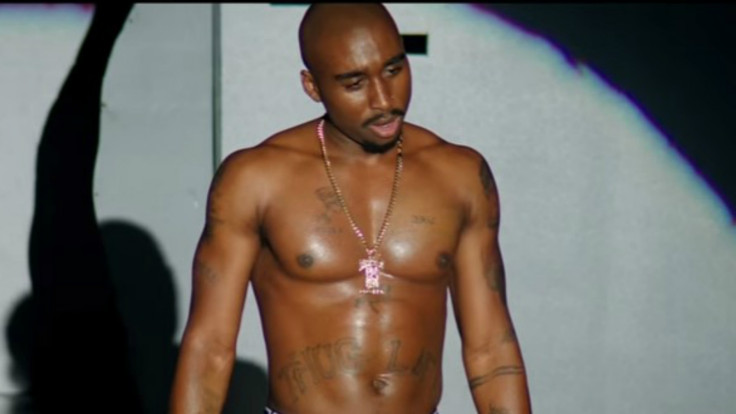 As a rap figure, Tupac was as highly regarded as he was controversial but Shipp Jr hopes that the audience will ultimately take away something else after watching the biopic.
The actor said: "Just a better understanding of his life and who he was and how he became to be who he was. The things he went through, the things that changed him and the situation he was in that caused him to react certain ways. It's easy to judge someone when you don't have all the parts of the story. I want to bring clarity to his life."
All Eyez On Me is directed by Benny Boom.
Watch the All Eyez On Me trailer: