Meet the hero London surgeons in Iraq treating impoverished victims of Isis
Medical staff in Erbil treating wounded people unable to pay for operations as war continues.
One hour from the city of Mosul – which until a few weeks ago was the main stronghold in Iraq of the Isis terror group – a team of London doctors and nurses is operating on war victims and wounded fighters unable to pay for treatment.
Iraqi soldiers recaptured Mosul after months of fierce battle against Isis terrorists. However, the militants have not yet been defeated and war continues to claim lives. Erbil is not a war zone, but it is just a few kilometres away from the front line with Isis. Horrors of the conflict echo through the city, capital of Iraq's autonomous Kurdistan region.
"The effect of war is everywhere. Erbil is packed with refugees and displaced people and some are destitute. It is heartbreaking," Professor Deiary F. Kader, orthopaedic and trauma surgeon, told IBTimes UK.
"I see many disabled and chronically ill patients at the clinic. Of course there is a massive economic downturn and all the resources have been redirected toward the war against Isis. Some people [can't] find enough food for their children, never mind paying to treat their injuries."
Kader is an Iraqi Kurd who moved to Britain as a refugee in 1993. However, he has not forgotten his people nor their plight since Isis seized swathes of Iraq in 2014. He decided to dedicate a "big part" of his life to humanitarian work and founded the Newcastle/Gateshead Medical Volunteers (NGMV), through which he conducts trips to the war-torn country. "I feel that I am giving some thing back to my country and humanity," he explained.
The doctor and his colleague, orthopaedic surgeon Richard Field, have often gone to Iraq to treat war victims in recent years. The team the pair now leads is expected to conduct between 20 and 40 operations on war victims in August. They will treat complex cases, with surgery mainly performed on hip and knee joints.
Patients include children affected by war and Arab and Pershmega fighters - soldiers from the Kurdistan's army – battling against Isis.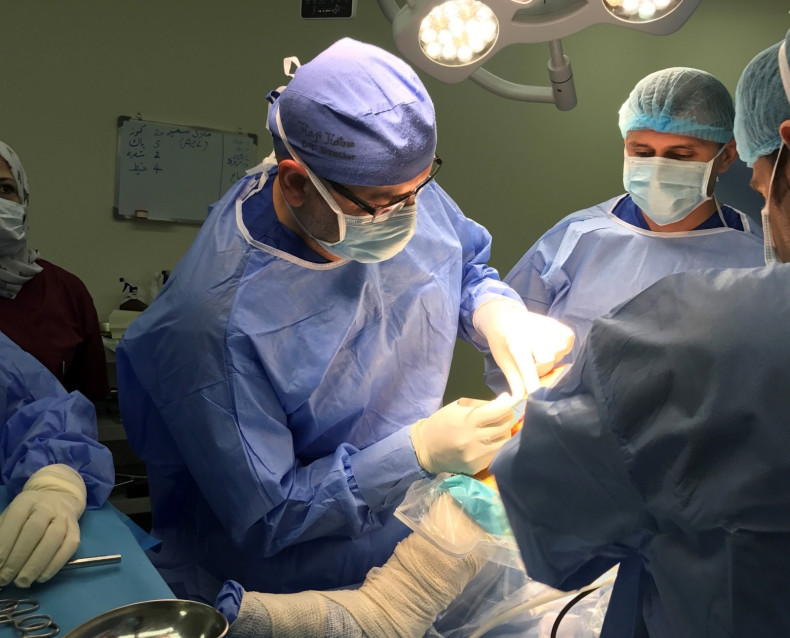 Kader's team, formed of volunteers who travel to Iraq during their holidays, is also training local doctors and paramedical staff on how to deal with war casualties. The team brought some anaesthetic equipment donated by South West London Elective Orthopaedic Centre at Epsom Hospital, where Kader works.
"We are very grateful to the hospital for donating that equipment to us. They would help us to perform safer surgery," he explained. "That equipment would have gone to waste but now they will be used to give safer anaesthesia and help to monitor our patients during surgery."
Medical staff volunteering for NGMV has been to Iraq more than 20 times already.
"There are many doctors, nurses and other paramedical staffs who are interested in our work," said Kader, who will soon travel to Tripoli, Lebanon, to treat victims of the Syria war with the Red Cross.
"I am lucky I have met many selfless people that are willing to give up their valuable time for charity missions," Kader said. "People are prepared to give up their earning and their family holidays to help. That is just wonderful. We have a waiting list for the people who want to travel. Everyone who can help is welcome."