Linda Wenzel was only 15 when she started speaking to a man online who, it later turned out, was part of Isis.
The German student from Pulsnitz was brainwashed by the Islamist preacher based in Hamburg, who sent her a copy of the Quran and convinced her to leave her home to join the terror group in Iraq. Police believe the girl had fallen in love with the preacher.
Her mother, who lived with Wenzel after divorcing her father, had noticed her new interest in Islam.
"She began leaving home with a small bag in which she had an Islamic headscarf and long flowing robes which she donned to cover up all her skin," she told local media.
One day in July 2016, Linda told her parents she was spending the night at a friend's, but actually used her mother's money to purchase a ticket to Istanbul, where she was then smuggled into Iraq.
"When she did not come back and then I found out she had never even been there, I called the police," her mother explained. "In her room they found a print of a plane ticket to Istanbul under the mattress.
"I was shocked, my daughter has never stolen or lied about anything before. I am devastated by the fact that she was apparently completely brainwashed and persuaded to leave the country by someone and that she managed to hide it from me."
Last month, Wenzel was captured by Iraqi forces from the rubble in the city of Mosul as troops advanced in the besieged city to recapture it from Isis. She was wounded when the troops found her, and footage shows them cheering as she screams.
Her capture in July received a high level of media attention, with people speculating about her role within the terror group, as well as the possibility of her facing execution.
It is believed that Wenzel, who Iraqi troops accuse of being a sniper for Isis, was found along with other women who had joined the group in recent years.
The women are believed to be part of an all-female police unit Isis created to ensure women respected rules implemented by the group.
A soldier who took part in Wenzel's capture told the Telegraph she had married a Chechen Isis fighter, with whom she was found in Mosul. The fighter died during an exchange of fire with troops.
"She was a Daesh sniper, but maybe her husband pressured her into it," the soldier claimed, adding that the girl had admitted to having killed Iraqi soldiers.
It has also been claimed that the girl was found with a malnourished baby boy. A source within the Iraqi special operations forces (Isof) told The Sunday Times that Wenzel "keeps him with her always" and that she is producing breast milk, which suggests she is the mother of the infant.
Wenzel is currently being held at a military complex in Baghdad, where she is being questioned by both Iraqi and US officials.
Despite several reports, clarity about her role within Isis will emerge following adequate investigation and a trial.
Following her capture, Wenzel told the German press she regretted her actions and wanted to go home and reunite with her family.
Death penalty risk
It is not clear whether Wenzel can return to her home or must face trial in Iraq.
"We, as the public prosecutor's office in Dresden, have not applied for an arrest warrant and will therefore not be able to request extradition," Lorenz Haase, a senior public prosecutor in Dresden, told German media following the girl's arrest.
"There is the possibility that Linda might be put on trial in Iraq. She might be expelled for being a foreigner or, because she is a minor reported missing in Germany, she could be handed over to Germany."
It is believed that German officials in Baghdad are engaging with Iraqi authorities to decide where Wensel should be tried.
When reports of the girl's capture first emerged, news agency AP said the girl could theoretically face the death penalty, as per Iraqi's counter-terrorism law. However, she would not be executed until the age of 22.
Some have pointed out that death penalty should be avoided in any circumstance, given the fact Wenzel is a juvenile whose execution for crimes committed as a minor would be in breach of international laws.
There should be absolutely no question of any charges against Linda Wenzel carrying a death sentence. She is still a child who should be treated accordingly
Countries that still maintain the death penalty must fully comply with "clear restrictions prescribed" by the International Covenant on Civil and Political Rights (ICCPR), of which Iraq is a state party since 1971,the UNHCR explains.
Article 6 of the ICCPR says that capital punishment cannot be handed down for crimes "committed by persons below eighteen years of age".
Kristyan Benedict, Amnesty International UK's Crisis Campaigns Manager,told IBTimes UK: "If there are reasonable grounds to suspect Linda Wenzel of involvement in any Isis atrocities in Mosul she should be properly tried, whether in Iraq or Germany.
"However, there should be absolutely no question of any charges against Linda Wenzel carrying a death sentence. International law strictly forbids the imposition of death sentences against juvenile offenders, while the death penalty is never in any case the answer to violent crime."
"There also needs to be a recognition by both the Iraqi and German authorities that Linda Wenzel is still a child who should be treated accordingly - meaning she shouldn't be held alongside adult detainees and should receive special protection and support while in detention," he concluded.
'Radicalised in very complex circumstances'
Since Isis emerged in 2014, thousands of youths from several countries across Europe and the Middle East have fled their homes to join the group.
This includes a number of teenage girls who were radicalised before abandoning their baffled families.
Previous research has shown that youths, who are often vulnerable and feel disenfrinchised, are easy to radicalise and convinced to join extremist groups.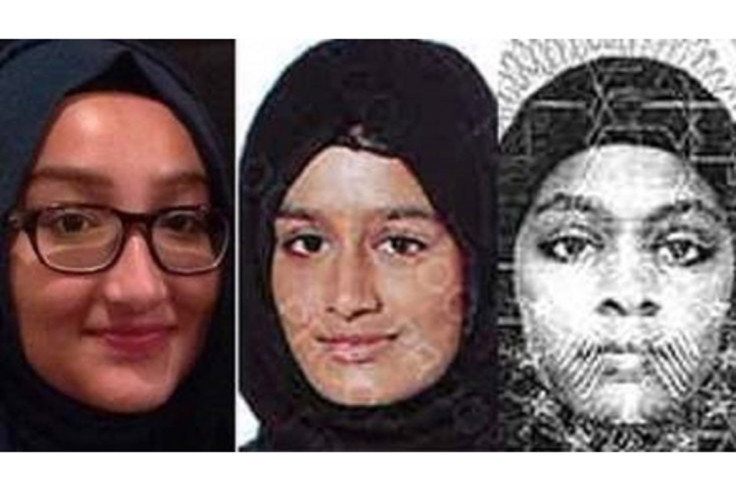 It is believed that Wenzel had become "withdrawn" following her parents' divorce and the fact that her mother had started a new relationship. She was described as feeling "lonely" by friends and members of the local community.
David Otto, a UK-based counter-terrorism expert, believes that more research is needed to understand how to handle cases such as Wenzel's.
"This is especially worrying for young females like Linda Wenzel who may have been radicalised in very complex circumstances for her age to have a balance judgment," he told IBTimes UK.
"How culpable are young fragile minds when they become entangled in a web of extremists preachers or materials by adults for the purpose of turning them into killers or jihadi brides?
"This has to be for the judge to decide, but most judges may not have the requisite training to understand why many innocent young men and women are drawn into this false ideal of a 'Caliphate'."
"We have little information about Wenzel's role while she was in the 'Caliphate' , but it raises a new area that requires policy debate," Otto concluded.
Isis may benefit from these type of judgements as evidence of a 'no way back alive' to anyone who thinks they can 'join' and leave easily.
A 2014 report by two UN agencies claimed that protection for people accused of committing crimes when they were minors is "rarely respected."
The report mentioned the case of two people accused of crimes committed when they were minors. The two were sentenced to death even after they were able to produce documents showing they were under the age of 18 when the alleged crimes took place.
"In both cases the Courts proceeded to admit into evidence an age assessment carried out by an ordinary medical doctor and relied on this assessment in convicting both defendants and sentencing them to death," the report said.
Otto warned that a death penalty might act as deterrent for other radicalised youths who might want to leave Isis but will choose not to, through fear of harsh sentences.
"A death sentence could send a wrong message to other vulnerable young men and women who may be considering an exit. Isis may benefit from these type of judgements as evidence of a 'no way back alive' to anyone who thinks they can 'join' and leave easily".
More from IBTimes UK