Like wasps in warm weather, London estate agent Foxtons seems to swarm whenever there's a noticeable bump in house prices.
Between 2003 and 2006 an army of breathless estate agents driving horribly decorated Minis were unleashed on the capital. The past year has seen another swell, with branches of the "café-style" property agent springing up all over the place.
Battles are being fought over our high streets as a result. Earlier in April, a campaign by residents of Kentish Town in north-west London successfully managed to prevent the estate agent from planting a branch in a recently closed Victorian pub.
A similarly impassioned campaign in West Hampstead to stop Foxtons invading a former post office building in March proved unsuccessful. According to local press, Foxtons claimed its café-society approach would add something new to the area.
A marketing officer for Foxtons confirmed coffee is available at its branches but she declined to comment further on the firm's expansion plans and anything that might stand in their way.
The good, the bad and the lovely
Estate agents have come in for a lot of stick; they are certainly no worse than bankers or politicians, or possibly journalists. And of course not all estate agents are bad. The anti-Foxtons campaigns in Kentish Town and West Hampstead both included estate agents (perhaps unsurprisingly). But these organisations were much more "community" than corporate.
House Presso in Kentish Town, for example, actually is a coffee shop - not just a ruse. As well as providing estate agent services, it's a functioning café.
"We've just started offering all coffee for a pound which has been a big success," Gavin Juniper, the co-founder and chief barista, said.
He explained his business model was inspired by Lloyd's of London, the famous networking hub of marine insurance that started in a coffee shop in the City and which still operates today as collection of syndicates.
"We aren't even 20<sup>th century – our model is more 19<sup>th century. We are proposing a hybrid approach." he said. "I've got nothing against estate agents. But if you can do something differently and show initiative then do it. When it comes to buying a house, it's very important to help people."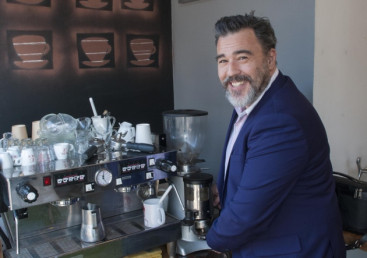 Amon Amouzandeh, who is Juniper's partner and the main estate agent of the business, grew up in Kentish Town and went to school there. The idea was that people would get to know him as an estate agent, know he's at the coffee shop or could be contacted and met with there.
Juniper believes a lot of the negativity towards Foxtons is because so many people can't afford to get on the property ladder. He admits there are people who have dealt with them and had a bad experience.
He said: "I have a lot of respect for [Foxtons founder] Jon Hunt. But they are all about branding. They have a reputation for aggressive targeting. It's targeted on the amount of viewings they do. It's a US style.
"If you are running a smaller company, you don't need all those targets. Myself and my partner know how much money we have to spend. It means you can take the time to talk to buyers and sellers.
"I don't think people need all these targets. Not just in business, primary schools are the same. You don't need to live like that. I prefer a co-operative approach – I think a new type of capitalism is coming."
Online potential being assessed
House Presso's plans for expansion are tentative but Juniper likes online potential, in conjunction with the physical meeting places, and the possibility of hiring people with expertise who are fed up with working for bigger companies – affiliates who would perhaps want to work from home, get away from the whole desk thing, he said.
Meanwhile, the total number of estate agents operating in West Hampstead in March increased from 29 to 30, as Foxtons took over an old post office building.
The large number of agents in the area is because there are lots of managers letting property and lots of buy-to-lets said David Matthews, director of Dutch and Dutch, an estate agent first established in the area in 1900. The business has been in the Matthews family since the 1940s.
"We are well-placed to understand the local area," he said. "But in business there are a number of approaches. With Foxtons it's about volume. They hire young, inexperienced staff with lots of energy.
"But they don't provide the service, the hand holding or the troubleshooting side of things. They also value extremely high – some 15% to 20% above market value. This should be outlawed.
"People can end up holding on for an unrealistic price. I knew of one man who waited over a year and ended up in an old folks' home: a valuation of £1m on a £650,000 property."
Hanging baskets and church conversions
Matthews explained how his firm saw to it that the local post office was not lost but reinstated within an old church, which had been slated for another high end redevelopment.
"We also opened a community café and a soft play area. A big chain wouldn't have had the local contacts to make that happen," Matthews said.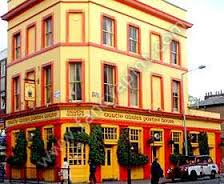 "We have also started a local farmers' market; we have pushed for hanging flower baskets. Big corporates that are only thinking about the bottom line just wouldn't do this."
Matthews said local opposition to yet another estate agent in the area was not Foxtons-specific. He also acknowledged competition is healthy, provided it doesn't mean all are tarnished by the same brush.
Very recent amends to planning laws have made it much easier to get a change of use. Estate agents, like banks and insurers, fall into a different category from shops and retailers, but very recent revisions to planning laws make it easier to grant change of use.
However, it's not so easy to invoke in the case of pubs, which are viewed as assets of community value (ACV). This was what ultimately stopped the Kentish Town Foxtons from opening in the old Auntie Annie's pub building.
Caroline Hill, chair of Kentish Town Neighbourhood Forum, said: "There are 12 or 13 estate agents on Kentish Town Road. About 10 years ago we used to be able to stop too many betting shops and estate agents in one area, but it's not as easy now. I don't know why you would need more than two estate agents."
According to the latest rumours, Foxtons now plans to take over the Co-operative bank branch on Kentish Town high street, which would not require a change of use application.