As the first president of the United States to have married three times, the new first family will be one of the largest and wealthiest families the White House has hosted in 200 years of history.
Donald Trump's third wife Melania brings some diversity to a long streak of US-born first ladies. The only other first lady to be born in a foreign country was Louisa Catherine Adams, the British wife of president John Quincy Adams, who took office in 1825.
Melania, 46, was born in socialist Yugoslavia, in what is now the small Slovenian town of Sevnica, in the east of the country close to the Croatian border. While she is the first wife of a US president whose native language is not English, she speaks five languages including Slovenian, French, German and Serbian.
She left Slovenia in the early 1990s to pursue an international modelling career, dropping out of university in her freshman year. The circumstances around her arrival in the US are clouded by controversy – an Associated Press investigation revealed she got paid for 10 modelling jobs in the country seven weeks before she received her working visa. She became a US citizen in 2006 after marrying Trump in 2005.
Melania's lavish lifestyle as a Trump was well-documented on her Twitter account – which curiously displays her name in capital letters – until her husband announced he was running for the presidency in June 2015. After the announcement, gone were the bathroom mirror selfies and pictures of cappuccinos and Chanel handbags, and in came messages focusing on supporting her husband's political campaign, defending him from allegation of sexual harassment, and defending herself from unflattering articles about her past and also her infamous speech at the Republican convention.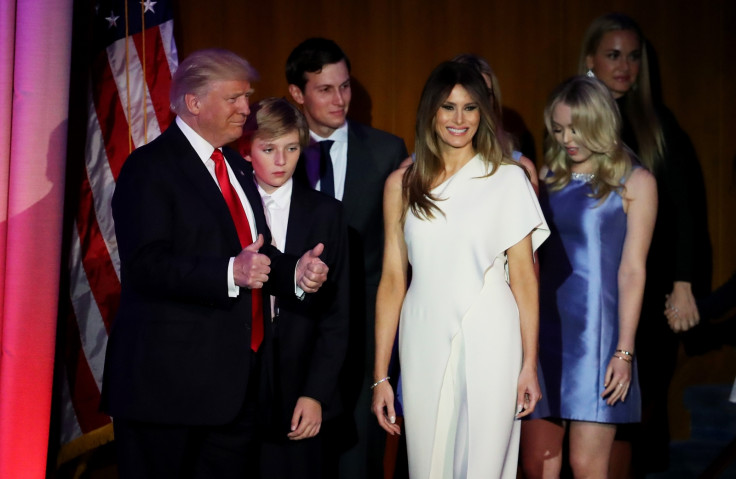 While Melania has recently announced that one of her priorities as first lady will be focusing on fighting cyberbullying, it appears that her husband will be keen to organise the parties. During his campaign, Trump had promised to pay out of his own pocket for a new ballroom in the White House. "We'll have a ballroom at the White House," he said, during an event in Iowa in January. "We'll get the top people, the top everything, we'll have the best ballroom."
At 70, Trump is the oldest president to take office, but his son with Melania is one of the youngest: Barron William Trump, whom Melania affectionately calls "mini Donald", is 10 years old. While Donald, Melania and Barron will likely be the only three Trumps living in the White House, the extended Trump clan will be frequent visitors and in October they inaugurated a new Trump hotel in the capital, a short walk from the president's residence.
Trump's children from his previous two marriages are not expected to take on political roles, focusing instead on managing the family business. However Ivanka Trump, 35, the daughter from his first marriage to the Czech-born model Ivana Zelníčková in 1977, is already exercising a certain influence in policymaking – her father attributed to her parts of the childcare plans presented in September.
While the policy would finally introduce maternity leave in the US, it controversially only covers women who physically gave birth to a child, effectively excluding adoptive parents, same-sex couples and fathers. When questioned about these issues in an interview with Cosmopolitan magazine, Ivanka defended her father's plans, claiming he never said that pregnancy was a burden on a business, and abruptly interrupted the interview prematurely.
Ivanka's brothers, Donald Jr, 39, and Eric, 32, were also staunchly supporting their father on the campaign trail, as well as on social media, where the pair have sparked several controversies. Donald Jr compared refugees to a bowl of poisoned Skittles and, most recently, Eric had to delete a tweet showing his vote in the ballot as it could be considered illegal practice in a court of law.
Trump's former wives are less likely to be seen around DC. Ivana and Donald's divorce in 1992, following Trump's affair with actress Marla Maples, was a well-publicised and bruising affair, including a deposition in which she claimed he raped and mistreated her, which she later retracted.
Trump married Maples in 1993, and they had one daughter, Tiffany, 23, whom Maples claims she raised as a single parent after their divorce in 1999. A recent graduate from Penn University, Tiffany started sharing the spotlight with the other Trump offspring during the campaign, often appearing at events with Ivanka to win the female vote. They were apparently a success, as exit polls reported by CNN indicated that 53% of white female voters voted for Trump.