The family history of 45th President of the United States Donald Trump is a compendium of successful stories about immigrants pursuing the American Dream, often at the expense of others. The fourth of five siblings, Trump has five children from three marriages, linking the Trump name to a vast network of relations across the globe.
Only three Trump family members will live in the White House at first, as wife Melania and son Barron will only move to Washington after the end of the boy's school term. Nevertheless, the Trump presidency carries a heavy baggage of business interests and relations in different sectors of the economy that are bound to raise questions over conflicts of interest - despite Trump's best efforts to hand over control of his businesses.
IBTimes UK maps out the network of branches of the Trump family tree. Click on the photo of a relative to find out more about who they are.
Fred Trump (1905-1999) and Mary Anne MacLeod (1912-2000)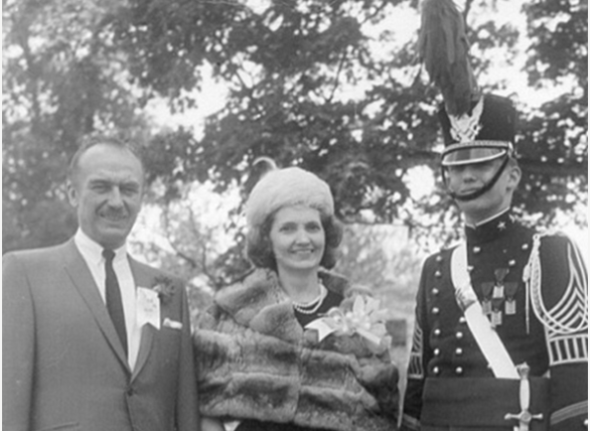 Fred Trump was the son of businessman Friedrich Trump, who came to the US from Bavaria (modern-day Germany) in 1885. After working as a barber in New York, his father moved to the West Coast, and then to Canada, where he made a small fortune running a restaurant and a brothel serving gold miners working along the River Klondike. He then tried to move back to his native Bavarian town of Kallstadt, but was refused residency as he had left without fulfilling his military service requirement. Friedrich moved back to the US, where he married fellow German immigrant Elisabeth Christ, and had four children. He died in the Great Flu pandemic of 1918, leaving his wife and his eldest son Fred to take care of the family business which, by that the time, had turned to real estate development.His younger brother John became an accomplished electric engineer and professor at MIT , whose work advanced the use of X-rays in cancer treatment, the development of radar technology and the use of high-energy electrons to cure superficial skin wounds. In an interview with CNN, Donald Trump mentioned his uncle as a reason why he dislikes nuclear weapons (although he does not oppose nuclear proliferation as a deterrent).
Fred built on the business to become a real estate tycoon. He took advantage of large government contracts made available first in the early 1930s under president Franklin D Roosevelt to counter the Great Depression, and then in the post-war years under President Dwight Eisenhower, to build his housing empire. Trump's dealings skirted the line of legality. In 1954, an investigation found he pocketed almost $4m of government money by inflating his building charges. Trump defended himself at the Senate hearing and he was found not guilty.
Trump married Scotting immigrant Mary Anne MacLeod in 1936. She was the youngest of 10 children, and came to America in 1930, working as a maid until she met Fred. They had a house in Queens, New York, and had five children together, including Donald in 1946. She died in 2000, a year after her husband.
---
Maryanne (1937), Fred (1938-1981), Elizabeth (1942), Robert (1948)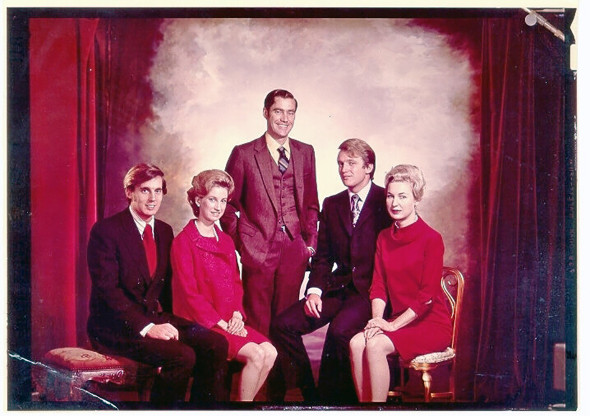 The first child of Mary Anne and Fred, Maryanne Trump Barry is a federal judge, appointed to the bench by President Ronald Reagan and promoted to senior judge on the US court of appeals for the Third Circuit by President Bill Clinton. Her late husband John Barry, a lawyer, counted Donald among his clients. Donald's other sister, Elizabeth, has also stayed outside the family's spotlight. She worked as an administrative assistant in a bank and married James Grau, a producer,in 1989.Donald's younger brother Robert Trump is president at Trump Management Inc, the business started by their father, which primarily focuses on real estate in Brooklyn and Queens. He is also a director at ZeniMax Media, a gaming company that is currently suing Oculus, a company owned by Facebook, over technology used to make the virtual reality headsets.
But it is Donald's older brother, Fred Trump Jr, who stands as the black sheep of the family. As the eldest, bearing the family name, the Trump business should have been his to inherit. But his relationship with his father soured. After an attempt at managing one of the Trump buildings, which Fred found did not meet his standards, he left the business and became an airline pilot. He quit (or was fired, the reports are contrasting) due to his worsening drinking habit. Divorced from his wife, with whom he had two children, he moved back into one of his father's buildings, where he worked in the maintenance crew. He was Donald's best man in his first wedding with Ivana. The relationship between the two brothers was reportedly difficult, as Fred Jr was deemed by his father as lacking the "killer instinct" he praised in other people, which he saw in Donald. Fred Jr died aged 41 in 1981 from complications related to alcoholism. Responding to allegations of his brother's drinking being fuelled by his negative relationship with his father, the New York Times reported Trump as saying: "I hope not. I hope not." However, their father's will did not include Fred Jr in his inheritance and his children sued the Trump family, whom they accused of having meddled in the will. Donald suspended the funds he was giving to Fred's son, Fred Trump III, to cure his infant child, born with cerebral palsy. Donald told the New York Times the dispute was eventually resolved "very amicably".
---
Donald J. Trump (1946)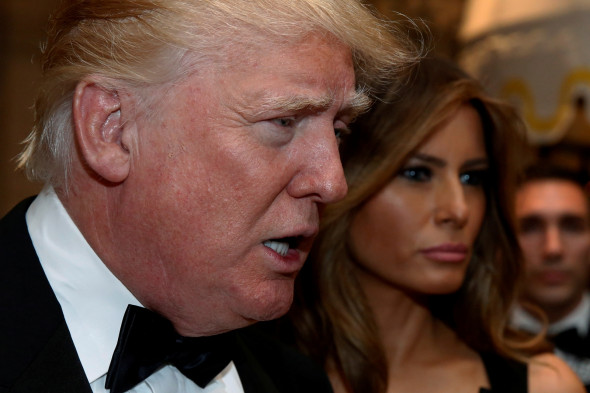 The fourth child of Mary Anne and Fred, Donald was reportedly an unruly kid. His parents sent him to military school so that he could learn discipline. Former schoolmates at the academy told the press that Trump was considered to be a ladies' man, and that his parents would always bring a different, beautiful young woman along with them when they went to visit him at the academy.Donald proceeded to study for an economics degree at the Wharton School of of the University of Pennsylvania, which his children Donald Jr and Ivanka would also attend. He took charge of the family business in 1971, changing its name to the Trump Organization. CNNMoney reported that, in 2015, the Trump organisation had a revenue of $9.5bn, employing a workforce of 22,450.
Trump's financial returns released in 2015 offered a view into his business empire, comprising 515 organisations in which Trump holds a position (from member to partner to director to president), and of which more than 400 bear his name or initials. Despite the success, a string of bad investments in casinos laden with debt in Atlantic City saw him filing for bankruptcy of four properties in 1991 and 1992. Trump declared bankruptcy again in 2004 for the Trump Hotel and Casinos Resorts, after accruing almost $2bn in debt, and again in 2009 for the Trump Entertainment Resorts, badly hit by the 2008 financial crisis.
The financial returns also revealed that Trump is a member of the Screen Actors Guild, and as such he receives an annual pension of $110,000. Trump has made small appearances in films, featured in commercials, and produced and featured in the Miss USA and Miss Universe pageants, as well as in The Apprentice series for NBC network. Besides the bankruptcies and the TV appearances, Trump's name is also linked to a series of lawsuits. The first and perhaps most prominent occurred in 1973, when Donald and his father were accused of violating the Fair Housing Act of 1968, refusing tenancy to black families. His lawyer and advisor Roy Cohn struck back and sued the government. Eventually, Trump settled in 1975, but maintains that this was not an admission of guilt.
While he has never held public office, Trump had repeatedly hinted at running for President, first in 1988, then in 2000 and in 2012, as well as New York governor in 2006 and 2014. But in the end, the 2015 race for the Republican party presidential nomination was the only one he entered - and the rest is history.
---
Ivana Zelnickova Trump (1949)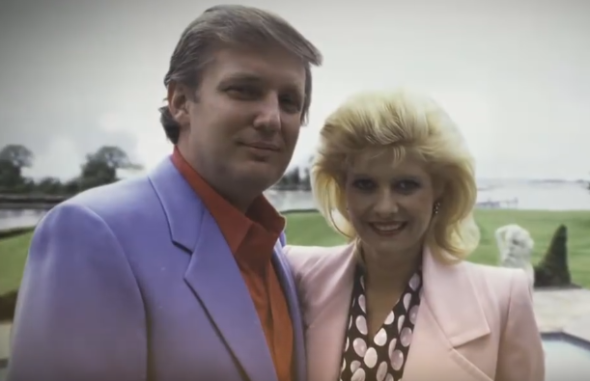 Donald and Ivana got married within less than a year of meeting, in April 1977. Ivana was modeling at the time, after moving to the US from Canada, where she was married to Alfred Winklmayr from 1971 to 1973. She was born in the Czech part of what was then known as Czechoslovakia, and became a naturalised US citizen in 1988.Together, Ivana and Donald became Manhattan's power couple. She took on roles within the Trump Organization, first as vice president of Interior Design for the company and then as president of the Trump Castle Hotel and Casino. Ivana filed for divorce in 1990, after discovering Donald was cheating on her with former beauty queen Marla Maples. The divorce was a long, bruising and well-publicised affair and included a deposition in which she claimed he raped and mistreated her, which she later retracted.
Afterwards, Ivana pursued her own business career, writing three books, a mix between memoirs and self-help. She married again twice, both times to Italian men. She tied the knot in 1995 with businessman Riccardo Mazzucchielli, but divorced in 1997. A decade later, she married model Rossano Rubicondi in 2008 at the Trump resort of Mar-a-Lago in Florida. The two divorced in 2009.
---
Donald and Ivana's children: Donald Jr (1977), Ivanka (1981), Eric (1983)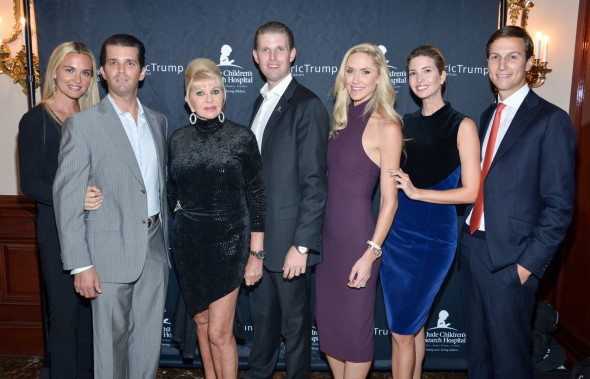 Donald J Trump Jr is executive vice president of the Trump Organization, responsible for new project acquisitions and development - a title all the siblings hold.He is reportedly a great lover of hunting, taking part in trips to countries like Zimbabwe to shoot big game, such as buffalos or crocodiles. His frequent use of Twitter also reveals he supports the legalisation of soft drugs like weed, and does not shy back from calling his critics "idiot" and other epithets. He married American Vanessa Haydon, who has Jewish and Danish heritage, in 2005 in a ceremony officiated by his aunt Maryanne Trump. The couple has five children together: daughters Kai Madison (2007) and Chloe Sophia (2014) and sons Donald John III (2009), Tristan Milos (2011), and Spencer Frederick (2012).
Eric Trump is the youngest of the three, but started his own charitable foundation at just 27 years old. The Eric Trump Foundation raised more than $1.5m a year through golf tournaments, online auctions and other events, according to the Washington Post. But the foundation's activities, including auctions offering a 10-week paid internship at the Trump Organization and coffee with Ivanka Trump (which was later cancelled), were deemed controversial in how they merged fund-raising and business interests - and, with the election of his father, policy-making.
In December, Eric announced the foundation activities would be suspended. His father took to Twitter to express his outrage at the news: "My wonderful son, Eric, will no longer be allowed to raise money for children with cancer because of a possible conflict of interest with my presidency. Isn't this a ridiculous shame? He loves these kids, has raised millions of dollars for them, and now must stop. Wrong answer!"
Eric married to Lara Yunaska, a former personal trainer and associate producer at CBS, in 2014 at the Mar-a-Lago resort. Their honeymoon started with a trip to the Trump Winery, a business Eric founded following his passion for winemaking.
Ivanka Trump is the first and only daughter born to the couple. She followed in her mother's modelling footsteps when she was a teenager, but she left the catwalk to attend university and pursue an economics degree. She spent the past decade working for her father's business and building her own brand as Ivanka Trump. In January, her profile on the Trump Organization website was taken down, after she decided to renounce all her business positions and part of her assets to follow her father to Washington. She has not been given a specific role in the administration as yet, but she is a close advisor to her father, and contributed to drawing his plan for maternity leave. She will move there with her husband Jared Kushner, for whom she converted to Judaism before they married in 2009. The couple has three children, Arabella Rose (2011), Joseph Frederick (2013) and Theodore James Kushner (2016). Jared is also the heir to a real estate family, and like his wife will be stepping down from his position to pursue a role in the Trump administration.
---
Marla Maples (1963) and Tiffany Trump (1993)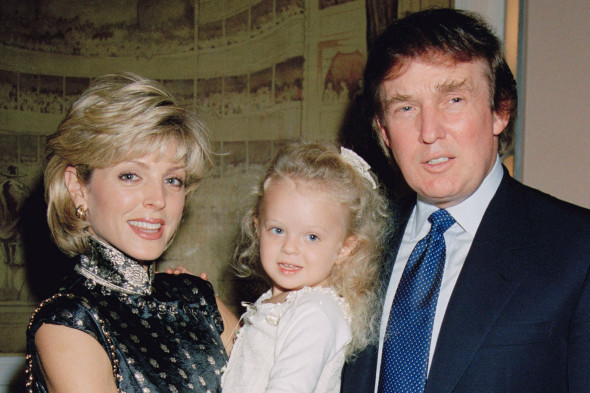 Donald's affair with Marla occupied a prominent position in the New York tabloids. The media circus culminated in a front-page headline on the New York Post, quoting Marla as dubbing Donald "Best sex I've ever had". The couple engaged but then split up in 1991. They got back together, had a daughter, Tiffany, and got married a few months after her birth in 1993.While Maples did not take any role in the Trump business administration, she still contributed using her set of skills as an actress and former beauty queen, co-hosting the 1996 and 1997 Miss Universe and the 1997 Miss USA pageants. 1997 was also the year the romance ended, with the couple separating and eventually finalising the divorce in 1999. Marla moved to California where she said she raised Tiffany "as a single mother" and has kept a relatively low profile.
Like her mother, Tiffany showed inclination for the performing arts. She recorded two pop songs in 2011, "Like a Bird" and "Paranoia". A recent graduate from Penn University, Tiffany started sharing the spotlight with the other Trump offspring during the campaign, to which all the Trump children contributed. Tiffany often appeared at events with Ivanka in an effort to win the female vote. They were apparently a success, as exit polls reported by CNN indicated that 53% of white female voters voted for Trump.
---
Melania Knauss (1970) and Barron Trump (2006)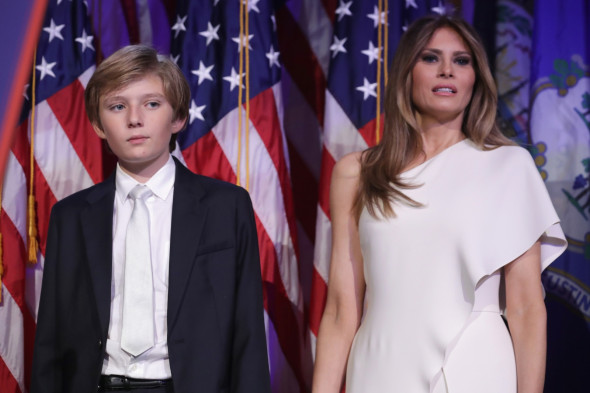 Melania was born in socialist Yugoslavia, in what is now the small Slovenian town of Sevnica, in the east of the country close to the Croatian border. She is the first wife of a US president whose native language is not English, but also speaks Slovenian, French, German and Serbian.In the early 1990s she left her native Slovenia to pursue an international modelling career, dropping out of university in her freshman year. She became a US citizen in 2006 after marrying Trump in 2005.
Melania's lavish lifestyle as a Trump was well-documented on her social media accounts – which curiously display her name in capital letters – until her husband announced he was running for the presidency in June 2015. After the announcement, gone were the bathroom mirror selfies and pictures of cappuccinos and Chanel handbags, and in came messages focusing on supporting her husband's political campaign, defending him from allegation of sexual harassment, and defending herself from unflattering articles about her past and infamous speech at the Republican convention.
Melania's presence on social media has all but disappeared since the election of her husband, her last post on Twitter was dated 8 November, encouraging people to vote. The social media silence is an unusual choice for someone who pledged fighting cyberbullying as one of her priorities as first lady. Her first and only son Barron was born in 2006. Melania affectionately calls him "mini Donald".
IBTimes wrote an in-depth profile about the 45th First Lady here