It is that tricky time of year for fashionistas in the UK – the sun teases with momentary appearances, throwing your summer wardrobe into a complete state of chaos.
Fear not, because Mela London, a long-running fashion boutique and sister of online store Yumi Direct, is launching its standalone collection for the 2015 spring/summer season, which is set to instantly brighten your look.
If the fun, colour-blocking prints look familiar then you are most likely a frequent shopper in high-street staple New Look, which has housed Mela London for years in many of its stores.
The London-based brand has consistently triumphed as a top seller for the fashion store but with its new website set to be unveiled on 8 July, customers will be able to browse its wider range, which boasts more options.
Showcasing a handful of its pieces at the website launch, attended by IBTimes UK, long-time customers of the label will be pleased to know Mela London's SS15 collection is just as girlie, bold and flirty as ever.
Cobalt blue, fuchsia pink and canary yellow make up most of the colour palette for the current season but some of the darker tones balance out the range perfectly.
Among the standout items are the floral black jumpsuit, which includes a wide leg and cuffed ankles, as well as the patterned off-the-shoulder 1950s shift puffball dress, which is sure to be a popular choice.
With other online brands such as Boohoo, Missguided, Asos and Forever 21 to contend with, Mela London has appealed to its target audience perfectly, with US model Cailin Russo fronting the SS15 campaign.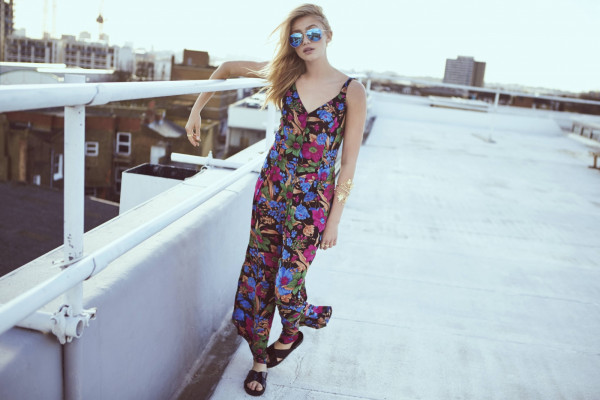 The 22-year-old, who resides in Los Angeles, is not only fast becoming hot property on the catwalk but she is also launching a music career with her sound a representation of her eclectic taste in jazz, ska, hip hop, reggae and trap.
Clearly no ordinary pop star, Russo instantly sets Mela apart from the crowd.
The brand has a relatively simple aim: "We strive to deliver easy-to-wear trends at affordable prices for all the girls out there who love to dream, believe and achieve."
With a motto like that, how can it fail?