'There is zero chance I'll quit' says Donald Trump
His comments came as his VP running mate Mike Pence said he had been offended by Trump's statements on women.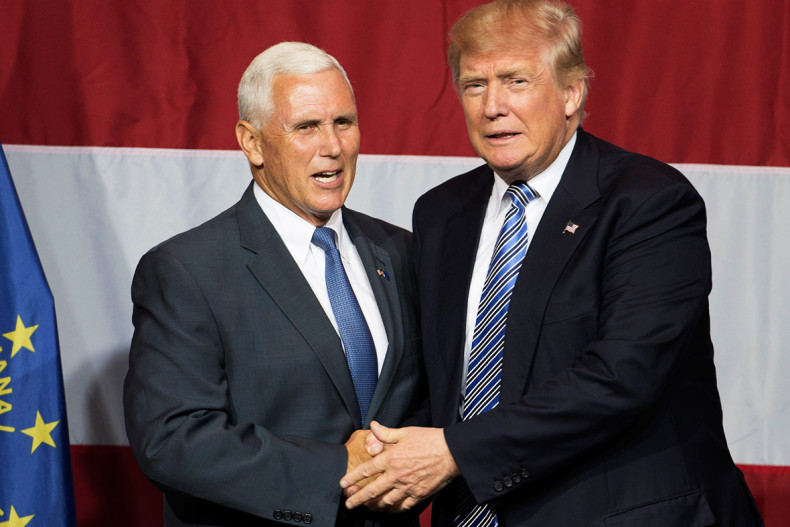 Donald Trump has ruled out leaving the presidential race after rumours surfaced he was facing calls from within the GOP to stand down when his lewd comments about women were made public.
Footage emerged on 7 October that showed Trump discussing women, while unaware that his mic was on during an Access Hollywood piece. In the video he is heard using lewd language and says "you can do anything to women when you're a star."
Trump has since reportedly faced calls from within the party to quit the nomination – with rumours his VP running mate Mike Pence could take his place if this did happen.
But Trump was quite clear on the fact that he had no plans to leave the presidential race, regardless of the backlash over his comments and party pressure to pass over the baton to a preferred candidate.
He told The Wall Street Journal: "There is zero chance I'll quit", adding in comments to The Washington Post: "I'd never withdraw. I've never withdrawn in my life. No, I'm not quitting this race. I have tremendous support."
He added: "People are calling and saying, 'Don't even think about doing anything else but running".
"You have to see what's going on. The real story is that people have no idea about the support. I don't know how that's going to boil down, but people have no idea about the support."
Trump has apologised for the comments that emerged in the footage, stating: "I said it, I was wrong and I apologise", before adding that travelling all over the country had changed him.
He also said the footage was "nothing more than a distraction" from more important issues, also taking the opportunity to hit out at Bill Clinton.
But even his VP running mate was unimpressed with the footage that emerged, further adding fuel to the rumour that he could be in line for a run at the presidency if Trump were forced to quit.
Pence said in a statement: "As a husband and father, I was offended by the words and actions described by Donald Trump in the eleven-year-old video released yesterday.
"I do not condone his remarks and cannot defend them. I am grateful that he has expressed remorse and apologised to the American people. We pray for his family and look forward to the opportunity he has to show what is in his heart when he goes before the nation tomorrow night."