After the First Lady of the US, Melania Trump was slammed for wearing a coat that trolls thought looked like a plane flying into a tower, White House came in her defence and called the accusations ridiculous.
"It's ridiculous," White House spokesperson Stephanie Grisham said about the controversy over Melania Trump's dress. Grisham has also worked as press secretary for FLOTUS in the past.
Although the people were criticising the first lady for deliberately wearing the dress on the anniversary of 9/11, reports say the picture in question was not taken on the September 11.
During the memorial ceremonies at Pentagon and White House for 18th anniversary of the terrorist attack, the 49-year-old was wearing a short black Ralph Lauren dress, according to USA Today.
The tweet by White House in which Melania was seen wearing the dress was an announcement of "Moment of Silence" that US President Donald Trump and the first lady were going to lead for 9/11 victims.
Melania also posted a different version of the same photograph and later, she retweeted a picture of her and the POTUS leading a "moment of silence" at Pentagon, in which she was wearing a different dress.
The former fashion model was brutally trolled on Wednesday. Twitter users claimed that the stitching around the back vent of her coat resembled a skyscraper, and the button flap looked like a plane crashing into it.
"Is...is that a plane crashing into one of the twin towers in the back of Melania's coat?!?," a user asked.
"Melania wears a coat in their 911 post that literally looks like a plane flew into a tower. Did they fire all the stylists too or is Melania just the biggest troll ever??," another tweeted.
This wasn't the first time Melania's dress was under scrutiny for a hidden message. Earlier in June 2018, she wore a jacket with the phrase "I really don't care, do u? printed on the back.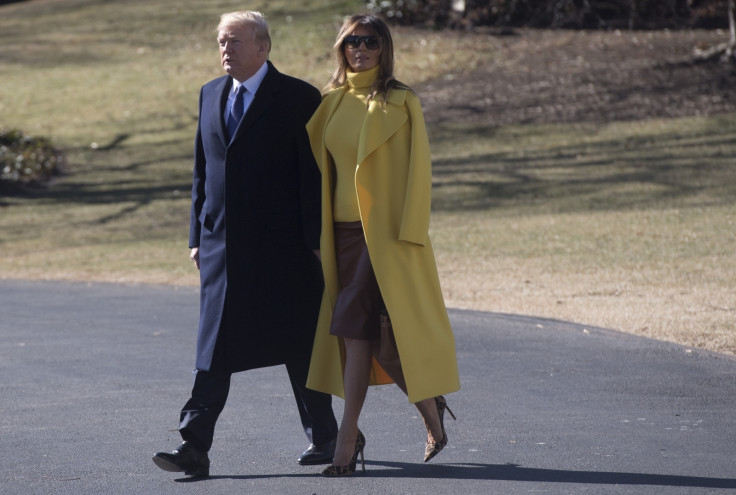 The jacket created an even larger controversy since she wore the outfit when leaving for a trip to visit detained immigrant children separated from their families following Trump administration's anti-immigrant measures. She was seen wearing a different outfit when she reached the children's camp.
However, a few months later, US President Donald Trump did admit that the jacked had a hidden message, but said it was directed at the left-wing media. The FLOTUS also clarified her choice along the same lines in an interview.