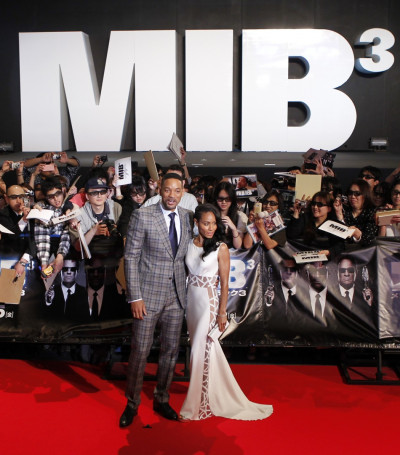 The cast and crew of Men in Black 3 are on a roll promoting their movie. Will Smith and the rest of the members have been travelling across the world to promote their latest movie. After a news conference in Seoul and promotional events in Japan, the team is currently in Paris.
Men in Black 3 is the third installment in the MIB series. The first one was released in 1997 and Men in Black 2 was out in 2002. Since the third part is coming after 10 years, there is much hype and excitement.
"Playing a character three times for me, it feels like home. You know it is wonderful. I have been off camera for about four years now. So, it is the first movie, I have made in, in almost four years. So for me, coming back to something that I know that is warm like a family reunion," Smith said at the news conference in Seoul.
For the promotion in Paris, Will Smith came dressed in a white tuxedo while his wife Jada Pinkett wore a little black glowing dress. The actor posed for photographs with his wife and seemed very closely tied with her while rumours of their divorce are floating around. Both of them have denied the rumours. Director Barry Sonnenfeld, Josh Brolin and Tommy Lee Jones were also present.
"It's just part of the game. I'm not going to play that part, but I can understand where somebody would have something in their heart where they have to stab somebody, they have to poke at somebody, but I'm indestructible. You are gonna hurt yourself stabbing at me," Smith told Access Hollywood.
Men in Black 3 will also be the first of the series to come in 3D.
"This is my first time making a movie in 3D, I was just happy my ears didn't take over the whole frame (laughs). That was my big concern, that in 3D these things would be exponential! We do spend a lot of time before we get on the set coming up with things. When we're working a scene we will ad-lib the three or four days before we're actually in a scene. Coming up with things, trying things, and we'll have four or five different options of things we want to try. And if we get an inspiration on set we try to make it comfortable for one another to throw things in," Smith said when asked about the 3D experience.
Men in Black 3 will hit theatres on 25 May.