The final episode of the Mentalist Season 6 will be aired on 18 May and fans of 'Jisbon' would love it if the two of them expressed their feelings for each other.
Patrick Jane and Teresa Lisbon are racing against time to bust a human trafficking ring. The pre-finale episode is not just about Jane and Lisbon's fight together against criminal masterminds but also about the most important decision of their life, that is whether or not to be 'in love.'
The official synopsis of "The Mentalist" Season 6, episode 21 reads: "With time running out to save the victims of a kidnapping ring before they are transported overseas, Jane and Lisbon zero in on the criminal enterprise's mastermind. Meanwhile, Lisbon decides if she will move to D.C. with Agent Pike."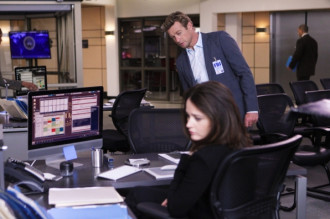 Show creator Bruno Heller teased that the finale would be romantic and end all questions about Lisbon's relationship status.
"It's a romantic finale rather than a [suspenseful] finale. With the death of Red John, there's a sense of tying [things] up and certainly this romantic angle is one of them," he told TV Guide.
There is some good news for Jisbon fans as the finale is expected to be more about Jane and Lisbon and their untangling relationship, TVline reported.
In the finale, titled 'Blue Bird, Lisbon will delay her plan to move with Agent Pike to Washington DC as she will be required for a new case. This will give Jane enough time to express his feelings for her, the website reported.
The website also released the pictures of the upcoming finale. Lisbon and Jane appear overwhelmed by emotions and there are chances of Jane proposing to her.
Click here to see the pictures.
Entertainment website Breathecast suspects Jane secretly intends to marry Lisbon but Agent Pike's hasty advances are ruining his chance.
The show is yet to be renewed by CBS while there are rumours that 'The Mentalist' may move to other networks in order to continue with Season 7.
The Mentalist Season 6 finale episode 'Blue Bird' will air on Sunday, 18 May, on CBS and is directed by Chris Long.