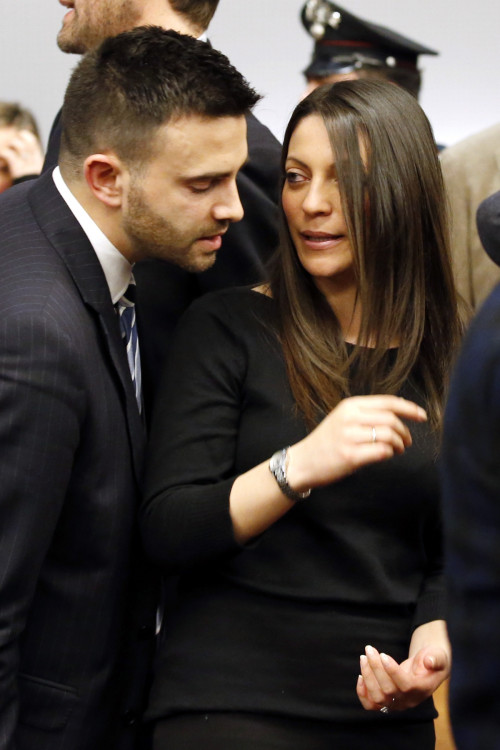 The sister of murdered British student Meredith Kercher said that they are still "on the journey to the truth" and admitted that they "might never know what happened" that night.
Stephanie Kercher said at a press conference that the guilty verdict that condemned Raffaele Sollecito and Amanda Knox to a combined 53 and a half years in prison "is just the next step" towards closure.
Kyle, the brother of Meredith, said he was frustrated by the length of the judicial process, which culminated in Sollecito receiving 25 years in prison and Knox 28 and a half.
"I think we're still on the journey to the truth. It may be we don't ever really know what happened that night," said Stephanie.
Asked if she will ever meet Amanda Knox, Stephanie said that it was "not something we want to do at the moment and we can't say we ever will".
"Nothing is going to bring Meredith back," said Kyle. "The best the family can hope for is the end of the legal process."
In referral to the possible legal battle to extradite Amanda Knox, who is currently in Seattle, to Italy for the prison sentence, Kyle said it would set a "difficult precedent", if the US failed to extradite her.
The press conference came after Sollecito was stopped by police near the Italian border with Austria, according to law enforcement officials.
While Knox has "lawfully" remained in the US since the acquittal in 2011, Sollecito could still leave the country and avoid time behind bars.
According to the court, "it is real and actual the danger that Sollecito could escape Italian justice".
Knox was originally convicted of killing Kercher in 2009 by a court in Italy. The verdict was overturned on appeal in 2011 and Knox and Sollecito were freed, after spending a total of four years behind bars.
They were cleared of murder after doubts were raised about the methods used by police to gather DNA from the crime scene. Heavy criticism was aimed at police for their handling of the murder investigation.
But a second trial was ordered by Italy's Supreme Court after prosecutors argued that vital DNA evidence was ignored at the pair's appeal in 2011. Questions were also raised about how the relatively inexperienced judges in the appeal conducted proceedings.
Homeless drifter Rudi Guede was convicted of killing Kercher in a separate trial and was jailed for 16 years.