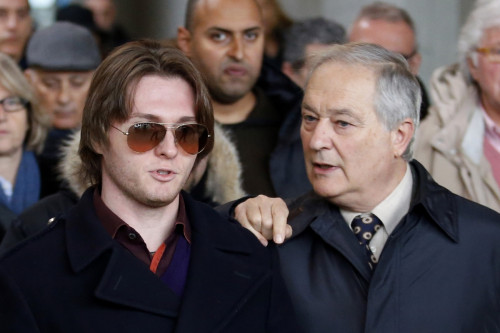 Raffaele Sollecito has been stopped by police near the Italian border with Austria just hours after being found guilty of killing British student Meredith Kercher.
The Italian seems to have been attempting to escape the country as he was detained by police near Udine, 18 miles from the border with Austria.
His passport was confiscated by authorities who also notified him on the ban to leave Italy.
Sollecito, who was present throughout the trial but absent when the verdict was delivered, was sentenced to 25 years in prison and Knox to 28 years and six months in the court of appeal.
The verdict paves the way for a possible extradition battle between Rome and Washington, since Knox is in Seattle and refuses to return to Italy. Knox, 26, and Sollecito, 29, have the option of appealing the new verdict to the Supreme Court.
Presiding Judge Alessandro Nencini has 90 days to write his arguments behind the jury's ruling. Once that is out, lawyers have 90 days to appeal.
'Real and actual danger'
While Amanda has "lawfully" been in the US since the acquittal in 2011, Sollecito could still leave the country and avoid time behind bars.
According to the court, "it is real and actual the danger that Sollecito could escape Italian justice".
Knox was originally convicted of killing Kercher in 2009 by a court in Italy. The verdict was overturned on appeal in 2011 and Knox and Sollecito were freed, after spending a total of four years behind bars.
They were cleared of murder after doubts were raised about the methods used by police to gather DNA from the crime scene. Heavy criticism was aimed at police for their handling of the murder investigation.
But a second trial was ordered by Italy's Supreme Court after prosecutors argued that vital DNA evidence was ignored at the pair's appeal in 2011. Questions were also raised about how the relatively inexperienced judges in the appeal conducted proceedings.
Homeless drifter Rudi Guede was convicted of killing Kercher in a separate trial and was jailed for 16 years.