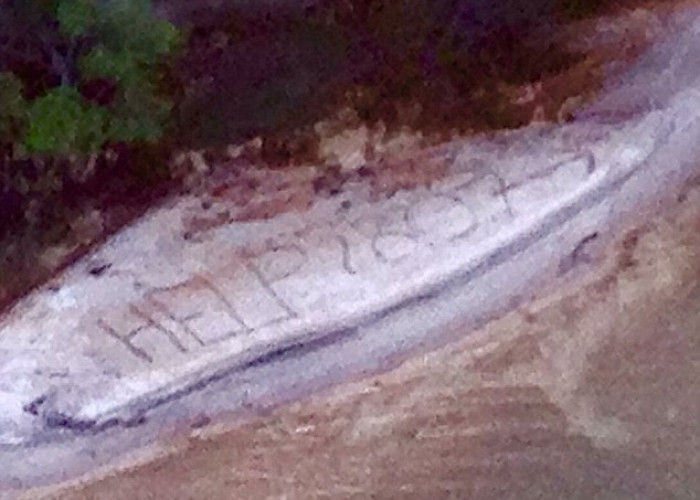 A British adventurer on a round the world trip has described his feelings about being rescued after spending two days in the harsh Australian Outback. Geoff Keys, 63, was spotted by a police helicopter after writing a huge "help" in the sand along with an arrow indicating where he was.
Former AA mechanic and father-of-three Keys was on a round-the-world bike trip he jokingly calls an "adventure before dementia", when he decided to take a shortcut while swimming in the remote Jardine River National Park in Northern Queensland. It was a decision he later admitted was the stupidest of his life.
Dressed only in shorts, a T-shirt and a hat, Keys was attempting to swim from his camp to the nearby beauty spot of Eliot Falls. "I was enjoying the swim," says Keys. "After a while I came to some waterfalls, but there were no people around. I knew the Eliot Falls would have been busy and that there would have been a path there, so I carried on swimming."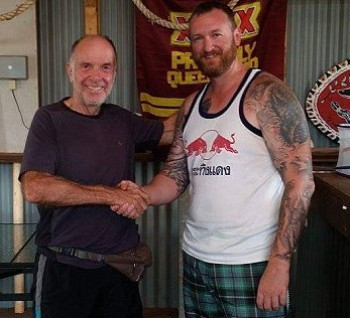 After a few hours trying to find the falls Keys decided to return to camp. However, instead of going back the same way he tried to take a shortcut. Soon he found himself hopelessly lost in a hostile terrain which is home to deadly spiders, snakes and saltwater crocodiles and had to spend a night without protection in the bush.
The next day Keys found a sandbank and wrote a message for helicopters he could hear searching for him. The message was spotted by Queensland Police Senior Constable and Land Search And Rescue officer Brad Foat who had flown away from the original search zone because he had a suspicion Keys may be elsewhere.
After spotting Keys, Foat had to find a safe place to land his chopper then hack through the Bush to rescue the Englishman. The cost of the search has been estimated at AUS$800,000 (£373,000). Keys was finally winched to safety and taken to hospital for checks, but he was not seriously affected by his ordeal.
"I feel stupid but lucky," admitted Keys. "I'm sorry about the worry caused to friends and family. Please believe me: I won't be doing it again!"