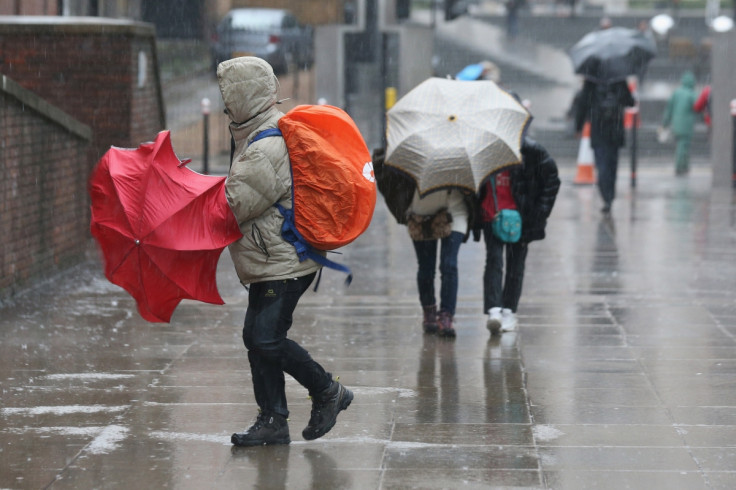 Motorists are being urged to take care as Storm Desmond continues to bring heavy and persistent rain to northern England and Scotland. The Met Office issued a red warning for the weekend of 5-6 December – indicating to take action – after it predicted up to 20cm (7.8in) of rain will fall over parts of Cumbria: four times the average rainfall for the whole of December.
Presently, there are two severe flood warnings, which mean there is a potential danger to life, in the north east as well as 64 flood warnings in Scotland. A number of amber – 'be prepared' – warnings are also in place for Strathclyde, Central and Tayside, and Fife.
There have already been landslides and flooding with residents being evacuated in Hawick, in the Scottish Borders over concerns about the River Teviot. Winds have reached speeds of 60mph – gale force 10 on the Beaufort scale.
Marc Becker, hydrology duty manager for the Scottish Environmental Protection Agency (Sepa) said: "Flooding is expected to affect many central and southern parts of Scotland, which could affect communities and cause travel disruption across many areas of Scotland over the coming days."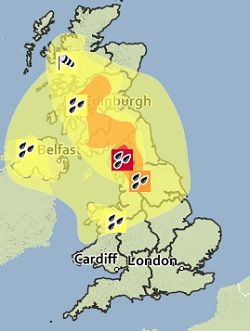 A spokesman for Police Scotland has warned motorists to take care when driving on the roads.
"In anticipating that there may be areas of flooding, Police Scotland would advise that you are mindful of the road conditions and drive accordingly," he said. "Allow plenty of time for your journey and ensure that you keep up-to-date with local travel news."
In other parts of the UK, Storm Desmond has cut power to 300 properties in north Wales, more than 190 homes in North Yorkshire, and 2,000 people in the Republic of Ireland. The Kinsale/Bandon region in Cork is the worst-hit region, with 1,200 people suffering power outages.
To keep up-to-date on Storm Desmond visit metoffice.gov.uk.