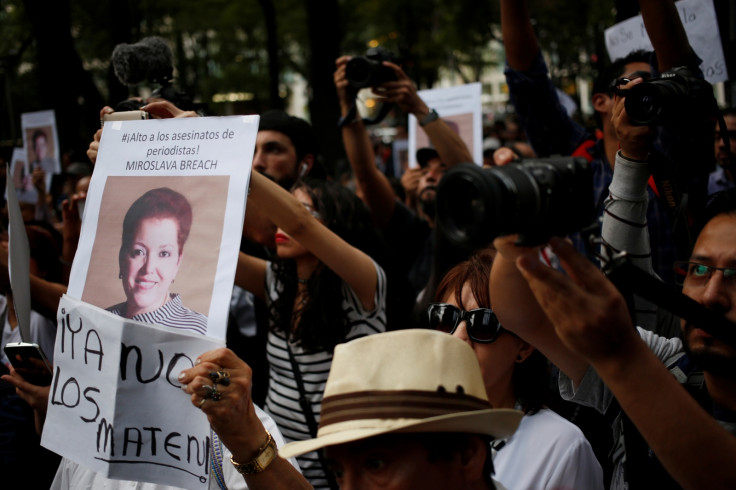 A Mexican newspaper in the border city of Juarez has announced a decision to stop printing because of the climate of violence against journalists and a culture of impunity.
In a final note published both online and on the paper's front page on Sunday (2 April), Norte editor Oscar Cantu Murguia bade readers "Adios!" and explained the reasons for the decision to close.
He cited the murder of journalist Miroslava Breach, who was shot eight times as she got into her car outside her home in the northern state of Chihuahua last month, as one "tragic" example of journalists paying the price for their work.
The 54-year-old mother of three was one of a trio of journalists killed in Mexico in March alone. Cantu said it was too dangerous to operate freely and safely because of a lack of security.
"On this day, esteemed reader, I address you to report that I have made the decision to close this newspaper due to the fact that, among other things, there are neither the guarantees nor the security to exercise critical, counterbalance journalism," Cantu said in his letter.
"Everything in life has a beginning and an end, and a price to pay, and if the price is life, I am not prepared for any more of my collaborators to pay it, nor am I prepared to pay it either," he added.
Breach was an editorial director of Norte and the paper believes her professional activity was the motive for her murder. The journalist was with one of her children when she was gunned down although the child was not hurt. A sign left at the scene of the crime read: "For being a loud-mouth".
In an editorial after her death, Norte challenged Chihuahua's governor, Javier Corral, to ensure the crime did not go unpunished.
"Miroslava was an exemplary journalist, rigorous in her professional work, upright, of great values, a fighting woman... Clinging to her ideals, today we raise a demand for justice for a death that should not have occurred, for a family that has been orphaned, for an injured profession, undermined by criminal and institutional violence," the editorial said.
Corral said: "That work is now our main line of investigation."
According to the non-profit Committee to Protect Journalists (CPJ), at least 38 journalists have been killed in Mexico since 1992 with the motives tied to their work.
"Mexico is clearly going through a deep, full-blown freedom of expression crisis," Carlos Lauria, Americas director for the CPJ, said.
"It's affecting Mexicans, not only journalists, because the fact that a newspaper closes is depriving people of information that they need in order to take informed decisions," he added.