Mexican president Enrique Peña Nieto has hit out at Donald Trump's push for a wall on the US southern border, stating its construction would be against the dignity of Mexican people.
Peña Nieto has made no secret of his dislike for the idea of a wall between the two countries – in particular the US president-elect's suggestion Mexico will pay for it.
"It is evident that we have differences with the new United States government on some issues, such as a wall that Mexico absolutely will not pay for," Peña Nieto said in an interview with The Guardian.
"At no time will we accept anything that goes against our dignity as a country and our dignity as Mexicans."
Trump and Peña Nieto met in September 2016 before Trump's win in the 8 November presidential election, with Trump reporting the meeting went well, but claiming the pair didn't discuss payment of the wall.
"Who pays for the wall? We didn't discuss," Trump said in comments carried by CNN.
"We did discuss the wall. We didn't discuss payment of the wall. That'll be for a later date."
However, this was disputed by Peña Nieto, who took to Twitter to state that he refused to consider the option of Mexico paying for the wall.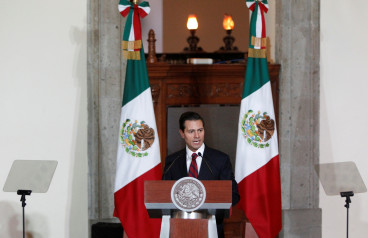 "At the start of the conversation with Donald Trump, I made it clear that Mexico will not pay for the wall," he wrote at the time.
Trump has appeared to backtrack on his tough stance on the Mexican border wall, with his team suggesting he would ask Congress to fund the wall initially and ask Mexico to pay once construction had begun.
"[It is] in order to speed up the process," Trump told The New York Times. "We're going to get reimbursed. But I don't want to wait that long. But you start, and then you get reimbursed."