Mexican foreign minister Luis Videgaray has lamented US policies that have built tension between the two countries, and expressed fears for Mexican immigrant's rights in the US during a visit to Mexico City by Secretary of State Rex Tillerson on 23 February.
His comments came after the Donald Trump administration issued a new policy that would see millions of Mexican immigrants deported. President Trump described it as a 'military operation'. Videgaray spoke of 'irritation' about such policies, which includes the controversial proposal of a wall that would be built on the border between Mexico and the US.
The policy proposes to deport immigrants caught crossing the border illegally, irrespective of where they are from, and anyone charged with, or convicted of, any crime.
Trump defended the action on immigrants, claiming the US were "getting drug lords out", and "getting really bad dudes out of this country, at a rate that nobody's ever seen before."
Having met with US Secretary of State Rex Tillerson and Homeland Security chief John Kelly, Videgaray spoke to reporters on the difficulty in repairing the relationship with the US, but felt it might be possible if the two parties could "overcome the grievances and hurt feelings", before calling for a change in stance from the Trump administration.
"There's a concern among Mexicans, there's irritation [about] what has been perceived as policies that might be harmful for the Mexicans and for the Mexican industry."
Tillerson was positive about future cooperation with Mexico, stating his view that it was "very close neighbour" – having grown up in Texas –although he was equally realistic about the issues of rebuilding bridges between the nations.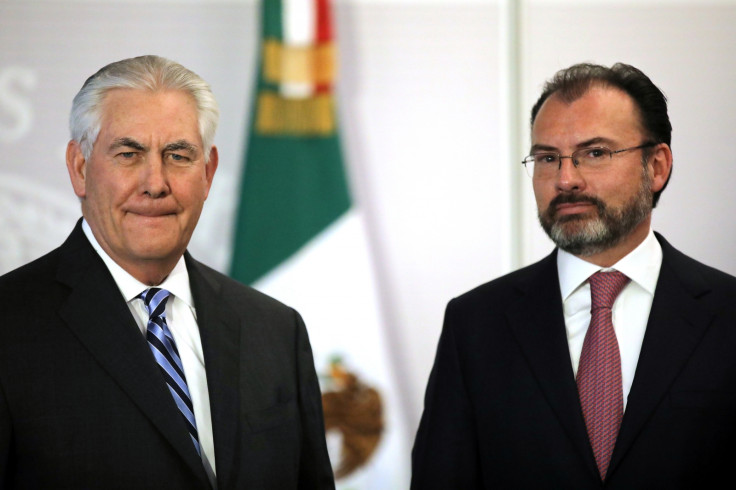 He said: "In a relationship filled with vibrant colours, there will always be differences".
Also sent to meet Videgaray was Secretary of Homeland Security John Kelly, who eased fears of a mass deportation, as well as claims that US military would be deployed to enforce such an action.
Kelly's assurances appear to contradict the earlier promise from Trump, who also proposed to sanction a 20% tax on Mexican imports to pay for a border wall.
Both US ennvoys have now returned to the US following a later meeting with Mexican President Enrique Pena Nieto.