US Secretary of State Rex Tillerson is to travel to Mexico with Homeland Security Secretary John Kelly to discuss issues including border security amid fraught relations between the US's southern neighbour and President Donald Trump.
Tillerson and Kelly will meet with Mexican President Enrique Pena Nieto and other senior Mexican officials during the two-day visit starting on 22 February, the State Department said in a statement.
Among the issues they will discuss are border security, trade and law enforcement, said the statement.
The visit comes with Trump and Nieto engaged in an ongoing dispute over a wall that Trump has pledged to build along the US-Mexican border to keep out illegal immigrants.
Nieto pulled out of a meeting with Trump in January after his counterpart said he should not attend if Mexico was unwilling to pay for the wall.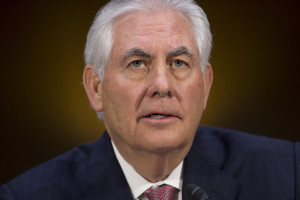 Trump has also threatened to slap tariffs on Mexican goods entering the states, criticised US companies moving operations to Mexico, and demanded a renegotiation of bilateral trade deals.
Mexican and US officials have continued to meet behind the scenes.