Weather warnings are in place for the south-western states of Mexico as Hurricane Carlos approaches the coast and threatens to intensify in power. The states most at risk are Oaxaca, Michoacan, Colima, Jalisco and Guerrero, which includes the tourist resort of Acapulco.
Hurricane Carlos is currently classified as a Category 1 hurricane on the Saffir-Simpson scale with sustained wind speeds of 150kmph (90mph) and gusts of up to 185kmph (114mph).
Currently approaching Mexico's coast at a speed of 4kmph it is expected to gain in strength reaching sustained speeds of 165kmph and gusts of 200kmph by tomorrow (Monday 15 June).
Carlos could cause life-threatening floods, mudslides, riptides and high waves at it reaches landfall south of Puerto Vallarta on Tuesday. Up to 250mm of rain could fall, and 375mm is possible in some areas.
A hurricane watch has been put in place by Mexico's government between Lazaro Cardenas and Punta San Telma. Tropical storm warnings have also been put in place between Tecpan de Galeana and Lazaro Cardenas as well as Tecpan de Galeana to Acapulco.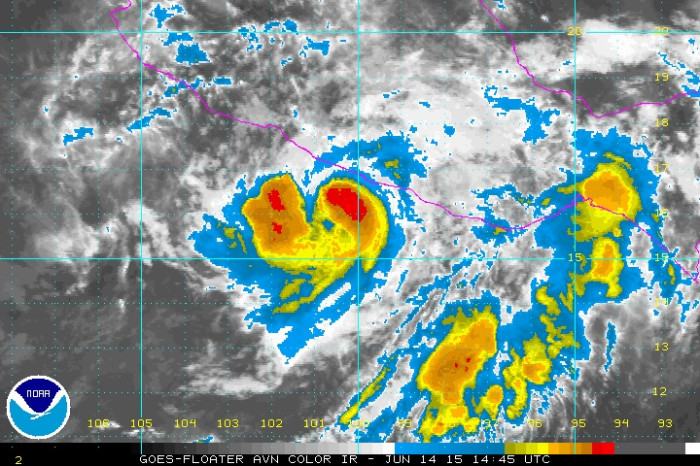 Carlos is the third Hurricane of the Pacific season in 2015.
Meanwhile, on Mexico's east coast, a cluster of thunderstorms over the Yucatan Peninsula has a 60% chance of developing into a hurricane in the next few days according to the US National Hurricane Center.
That tropical storm threatens to bring flooding to eastern Mexican states as well as parts of the southern US including Texas which were devastated by recent flooding in which at least 31 died.
If the storm does become a hurricane it will be named Bill, becoming the second hurricane of the 2015 Atlantic season.
"We have a very serious flood threat that will be occurring across Texas," said AccuWeather meteorologist Evan Duffy. "The big area of concern is Houston, where there are still flood gauges showing major and moderate flooding."