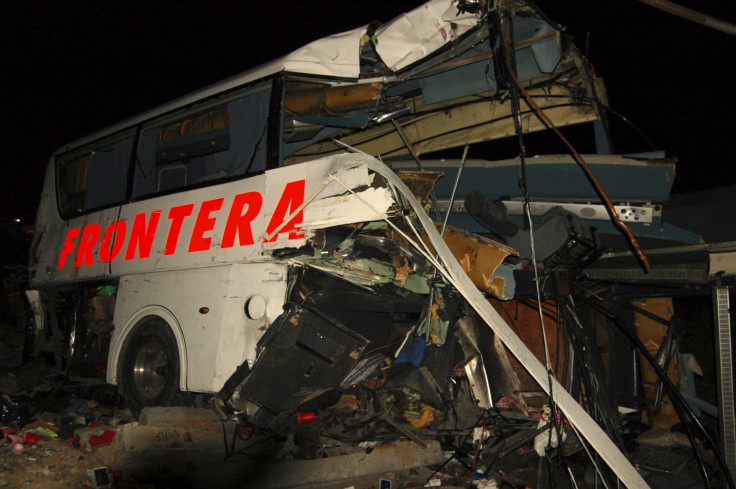 At least 16 people have died and 30 more have been injured after a freight train collided with a bus at a level crossing in northern Mexico on Friday evening.
Local media reported that the bus may have ran a stop sign at the crossing in the town of Anahuac in Tamaulipas state. It was reportedly carrying around 60 passengers, but only had seating for 40.
Mayor Desiderio Urteaga said two children were among the dead, as other officials warned the final toll could rise as some passengers remained trapped in the wreckage.
Pictures show the extent of the damage to the bus, which was split in half by the oncoming train, said Jorge Camacho, head of emergency services in Nuevo Leon state.
"We have confirmed the death of 16 people and we believe there are more underneath the bus, so the death toll could reach 20," he said, confirming that nine women and five men were also identified among the dead.
The train's operator, Kansas City Southern de Mexico, issued a statement confirming there had been "a lamentable accident" at around 5:25pm (11:25pm GMT) on Friday.
It said there were "an undetermined number of dead and injured at the scene".
The bus was on its way from the city of Nuevo Laredo in Tamaulipas state to the neighbouring state of Coahuila.
An investigation has been opened in order to determine the cause of the crash.
A Mexican official was quoted by AP saying that investigators were looking into the possibility the bus driver had tried to beat the train to the crossing.
According to a 2013 World Health Organisation report on road safety, more than 16,700 people are killed in road traffic crashes in Mexico every year. Most of those killed or injured on Mexico's roads are between 15 and 29 years old.