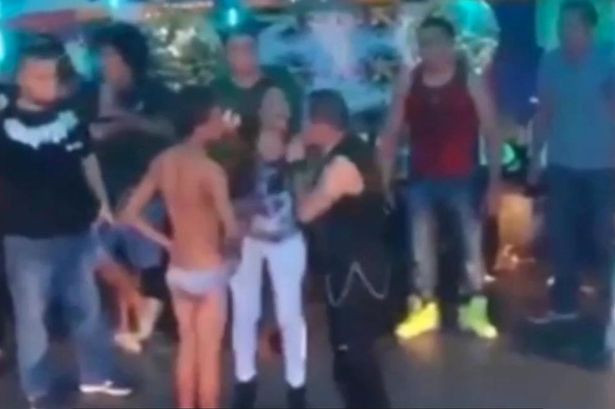 A popular nightclub in Mexico has been closed after a girl was videoed performing a sex act on a teenage boy in exchange for a free drink. The shocking incident happened in a club called Capezzio, in the Mexican city of Veracruz.
Speaking in Spanish, Juan Santiago, the compere for the evening, explained to the crowd what was about to transpire, as a young man is seen standing in just his underwear.
A woman then emerges from the crowd and approaches the young man. The pair are seen dancing together awkwardly before the woman suddenly drops to her knees and performs the sex act, in front of the raucous crowd.
The footage went viral after it was shared on Facebook, Twitter and WhatsApp prompting governor Javier Duarte to instruct the Board of Trade through his Twitter account to close the night club.
The degrading incident has sparked outrage among some, while others dismissed it. "There are other bigger problems in Veracruz," said one person on social media.
The Capezzio nightclub is a popular spot with Mexican celebrities including the former carnival queen of Veracruz, Adriana Fonseca. The club has been raided by police twice for underage drinking.This video comes after a series of shocking revelations about the behaviour of British tourists in popular European holiday resorts such as Magaluf over the last two years.
In a similar incident last year, a British girl was filmed performing a sex act on 24 men in a Magaluf bar during a drinking game. The grainy clip of the tourist shows her move from one man to another on the dance floor, egged on by an unknown man with a camera.
The sex-game craze is said to be an example of 'mamading' – a game where bars encourage young women to perform sex acts in return for free alcohol. 'Mamada' is a Spanish slang term for performing a sex act.