Mexico: Video shows how drug lord Joaquin 'El Chapo' Guzman Loera escaped from prison
Security camera video footage has been released showing the moment Mexican drug lord Joaquin Guzman Loera escaped from a high security prison for the second time, much to the embarrassment of local authorities.
Joaquin "El Chapo" Guzman Loera can be seen anxiously moving around his cell in CCTV footage recorded on Saturday 11 July at around 8:50pm that was shown at a press conference by national security commissioner Monte Alejandro Rubido.
The drug kingpin briefly sits on his bed to change shoes, then walks to the shower area, crouches behind a short divider wall and vanishes from camera sight.
Underneath the shower floor, authorities later discovered a ladder descending into a tunnel more than 1.5km (1 mile) long, which ended at an abandoned property.
Rubido explained that the security cameras in the cell had two blind spots to grant the prisoner's privacy. One concealed the tunnel entrance.
The commissioner added that Guzman Loera's evidently nervous movements didn't trigger alarm as it is normal for detainees spending most of the day confined between four walls to behave in such way.
Nevertheless, investigators were probing possible responsibilities of prison guards on duty at the Altiplano Federal Penitentiary in Almoloya de Juarez, west of Mexico City, when he escaped.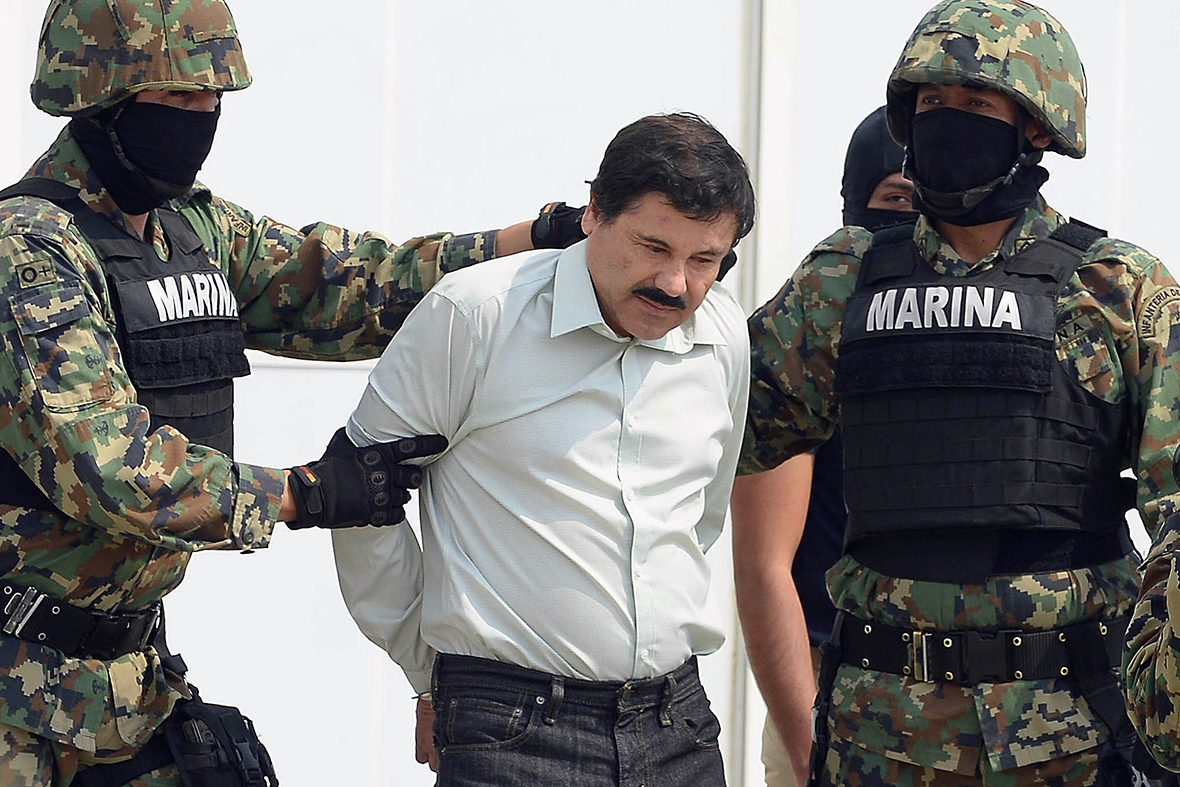 Guzman Loera was one of the world's top crime bosses, running the powerful Sinaloa Cartel, which has smuggled billions of dollars' worth of cocaine, marijuana and methamphetamines into the US and fought a vicious turf wars with other Mexican gangs.
His flight seriously undermines President Peña Nieto's pledge to bring order to a country torn apart by years of gang violence.
Government officials vowed that Guzman Loera would be recaptured, and security forces fanned out to search roads near the prison.
A 60m pesos (£2.4m, $3.8m, €3.5m) bounty has been offered for his arrest but some fear apprehending him will be quite difficult if he has managed to reach the mountainous villages scattered in north-west Mexico, where he grew up and now holds legendary status, enjoying the protection of local villagers.
In 2001, Guzman Loera paid guards to help him slip out of the high-security Puente Grande prison near the city of Guadalajara after a previous arrest in 1993. After eluding capture for 13 years, Guzman was arrested in February 2014 in his home state of Sinaloa.