An arrest order has been issued for Jose Luis Abarca, the fugitive mayor of Iguala, who is believed to have been involved in the mass kidnapping of 43 students last September.
The youths, from Ayotzinapa Teacher Training College "Raul Isidro Burgos", disappeared on 26 September after clashes with police in the Mexico state of Guerrero.
It is believed that they were taken into custody and then handed over to drug cartel Guerreros Unido, or United Warriors, after police opened fire during a protest the youths had staged against what they defined as "discriminatory" hiring policies, which favoured urban students over rural ones.
Several theories spread after the mass kidnapping took place. One of them alleged that Iguala mayor Jose Luis Abarca, who fled immediately after the abduction, ordered police to attack the students over fears that their protest would disrupt a speech by his wife, Maria de los Angeles Pineda Villa.
Villa and police chief Felipe Flores are also on the run.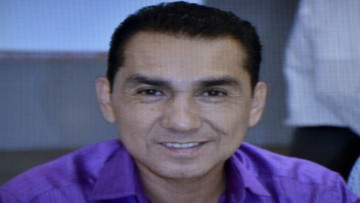 Officials said on Wednesday (22 October) that the Guerreros Unidos run Iguala and has tight connections with Abarca.
The authorities added the mayor receives hundreds of thousands of dollars a month by the cartel, out of its profits from making opium paste to fuel the US heroin market.
Attorney General Jesus Murillo Karam said the students had gained the enmity of Abarca because of a previous demonstration in the city.
Abarca has been accused in the past of direct participation in torture and murders of activists, while Pineda Villa has links to drug cartels as members of her family (at least three brothers) are part of the Beltrán Leyva drug cartel.
The discovery of several mass graves on the outskirts of Iguala, fuelled fears that the youths could have been massacred.
A few weeks after the disappearance, two hit men confessed to executing 17 of the students and dumping them in a mass grave containing 28 bodies, but Karam said DNA tests showed that the corpses were not those of the missing group.
However, further forensic tests are being carried out on at least four other mass graves recently discovered.
Karam said that at least 50 suspects, including more than 20 police officers, who confessed to being linked with the disappearance, were arrested.
Benjamin Mondragon Pereda, an alleged leader of Guerreros Unido, killed himself during a confrontation with authorities, who, however, were not able to confirm whether he was involved in the students' disappearances.