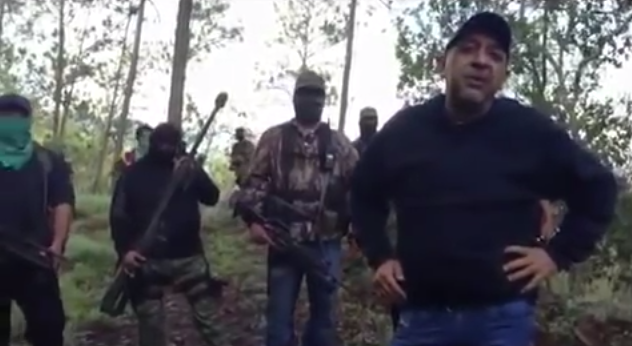 As Mexico witnesses a crackdown on drug cartel leaders following the arrest of Joaquin "El Chapo" Guzman, IBTimesUK looks at the most wanted drug lord still at large.
Servando Gomez, known by many in Mexico as "La Tuta," which means "the teacher", is a well-known boss who often gives interviews and doesn't seem worried about exposing his whereabouts.
He was among the original founders of drug cartel La Familia Michoacana, which has become The Knights Templar, one of the most dangerous cartels in Mexico.
Despite having a bounty of £1.4m on his head, Gomez has sent videos of himself to television stations and openly admitted to working for the cartel during regular interviews with journalists.
He is also believed to have kidnapped some journalists and refused to let them go until they agreed to interview him, according to Vocativ.
The Knights Templar, founded in 2010, gets its name from the Templar Order of the Middle Ages which protected Jerusalem, and its hit men have commandments such as to protect the community and keep all activities secret, or the families will be killed.
According to journalist Ioan Grillo - who wrote the book El Narco: Inside Mexico's Criminal Insurgency, the Knights Templar claim to be the protectors of the Michoacan community.
Gomez himself claims that his cartel helps people in Michoacán, refraining from kidnapping or killing them.
In a report featured by Channel 4 News, Gomez is seen handing out money to a bunch of women gathered around him.
"Ever since I was a little boy, I was always altruistic," Gomez explains in the video. "My mother told me 35 years ago that I would never have any money because I was always giving it away".
When the Knights Templar members first announced themselves , they displayed more than 40 narcomanteles, or drug-cartel banners, across the state with a message promising security. "Our commitment is to safeguard order, avoid robberies, kidnapping, extortion, and to shield the state from rival organisations," they said.
A week later, their first victim was hanged from an overpass with a note claiming that he was a kidnapper, according to Grillo.