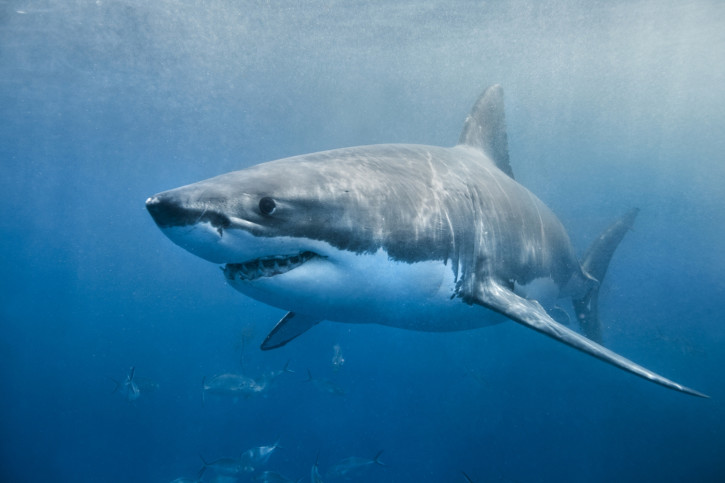 There have been several reports of shark sightings and attacks around the world in recent years with many horrifying accounts of deaths and mutilation due to them.
Most recently in Miami, a Haulover Beach swimmer was bitten on both legs by a four-to-five-foot bull shark on Sunday (9 July), Miami-Dade fire rescue spokeswoman Erika Benitez said.
Sunny Isles Police spotted the marine predator that was too close to shore for comfort at around 3pm local time (8pm BST).
The swimmer, who has not been named, was leaving the waters after warnings from lifeguards, when the shark attacked. He was rushed to hospital with wounds on both legs.
"In my 20 years as a lifeguard, this is the first time a person has been bitten here at Haulover Beach, and possibly the first for Miami-Dade County," fire rescue lifeguard Matt Sparling said.
"Although these incidents are rare, we still ask beachgoers to always be aware of their surroundings. Always swim near manned lifeguard towers and be sure to always heed all warnings issued by lifeguards."
Increased attacks
Though officials have called this the first recorded shark attack to take place off Haulover Beach, there have been several reports of shark attacks on the east and west coast of the United States and Australia.
Recently, Darcy Russell and her group who were fishing near Port Mcdonnell, off the coast of Eight Mile Creek, in Australia, uploaded footage showing a great white shark circling their boat and at one point appearing to take a bite off the craft's motor.
In her post, Russell said that the group was only 2km off the coast when the shark started circling them.
In California, beaches had to close in May after sightings of 25 great whites. Further south on the Mexican coast, two men found a wounded shark in shallow waters and managed to take a close-up video of the huge creature.
In the Bahamas, Tiffany Johnson of Concord from North Carolina came face-to-face with death on a holiday in late June when a shark tore her left arm from her body and left her and her husband James Johnson stuck on the gorgeous islands..
A surgery was performed on Johnson at Carolinas Medical Center. She eventually lost much of her right arm and will be fitted with a prosthetic one.
"Honestly, I would live with just a stump, because I'm here and alive, and that's the most important part," she said in an interview with the Observer.
At the Bunbury beach in western Australia, a shocked bodyboarder, Paul Goff, was dragged from the waters after he was attacked by a great white shark in June.
Why the increased sightings and attacks?
George Burgess, director of the International Shark Attack File in Florida told Fox News that the Marine Mammal Protection Act provided protection for animals such as sea lions, seals, otters, dolphins and whales, many of which are an important aspect of a white shark's diet.
He also said that the act is "protecting white sharks through federal regulations and essentially providing more food by protecting primary food sources".
He confirmed that sharks (especially white shark) are indeed growing in terms of population. The rising shark population "indicates to us that we need to start planning strategies as to how we're going to reduce the opportunities for the two animals to come together. As the animals with the bigger brains and the ones who don't live in the sea, it's incumbent upon us as humans to modify our behavior to reduce those interactions," Burgess said.
"Shark populations are increasing [in Southern California] because we've done a better job at protecting white sharks," Christopher G Lowe, Ph.D., Professor of Marine Biology at California State University Long Beach told Grind TV.
Lowe also said that conditions like El Nino changes the migration pattern of sharks.
"It made it look like suddenly there were more sharks that came from nowhere. Sharks born the previous year just didn't leave and then the next spring new sharks came in, so it made it look like we had way more sharks than normal."
Rise in sea temperatures is also a major reason for increased shark sightings. White sharks can keep their bodies warmer than the water they swim through.
"They have this ability that other shark species don't. The problem is, as global temperatures and ocean temperatures rise, white sharks might get pushed to areas where they don't normally occur in high numbers," Lowe added.