The Miami Dolphins and their quarterback Ryan Tannehill avoided a major injury on Thursday (3 August). Tannehill suffered a non-contact injury to his left knee during practice, but an MRI showed there is no structural damage.
Tannehill's knee did, however, buckle during the incident, NFL Network's Aditi Kinkhabwala reported. The Dolphins are deciding how to proceed following the scare just one week before the team's first pre-season game against the Atlanta Falcons on 10 August.
According to the NFL Network, the quarterback could miss time in training camp as the organisation takes things slow.
Footage of the incident showed Tannehill rolling to his right and heading up field towards the sideline. As he moved out of bounds, Tannehill's left leg seemed to land awkwardly on the turf, prompting him to fall to the ground.
The Miami Herald reported the quarterback remained on the ground for about 15 seconds, surrounded by teammates as trainers examined his left knee. He then got up and slowly walked to the locker room.
The injury is to the same knee Tannehill suffered ACL and MCL injuries to last season. Those injuries forced him to miss the final three regular season games and playoff game. During offseason, Tannehill insisted his knee was stable.
"Just so everyone hears, the knee is really good. It feels really good," he said last week through the team's official website. "I haven't had any changes since the spring. I was a full participant in the spring and still going really well. Now we don't have to address that anymore, right?"
Colin Kaepernick to the Dolphins?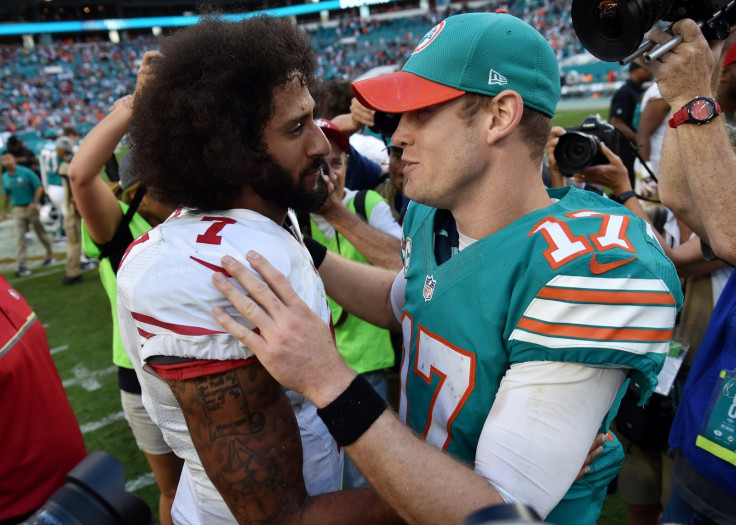 Tannehill's injury has led some to wonder whether an extended period of time away could mean the Dolphins might consider picking up former San Francisco 49ers' quarterback Colin Kaepernick.
ESPN's Mike Sando noted Kaepernick "could be a good fit for the Dolphins, whose coaching staff has already shown the flexibility required to build around a quarterback with a non-conventional skill set". However, the outspoken player's past actions could make it difficult to transition to the Florida city.
Kaepernick, who grabbed international headlines for kneeling during the national anthem in protest of racial inequities, previously showed up to a 49ers press conference with a shirt depicting Cuba's Fidel Castro and Malcolm X with the caption "Like minds think alike". The move soured many in Miami, which has a large Cuban population.
Despite this, ESPN noted Kaepernick played his best game of the 2016 season against the Dolphins. He completed 29 of 46 passes for 296 yards and three touchdowns. Kaepernick also rushed 10 times for 113 yards.
The Dolphins are not the only team that may consider Kaepernick. The Baltimore Ravens have had an awkward public debate over signing him, saying they are unsure if they will pick him up.