The FBI is investigating an audio recording alleged to have captured the moment Ferguson teenager Michael Brown was shot by a police officer.
The recording, obtained by CNN, appears to indicate a quick succession of around six or seven gun shots, followed by a brief pause before a final serious of blasts.
The clip was passed to CNN and on to the FBI by an unidentified man from Ferguson. The news network has not been able to verify its content.
Brown was unarmed when he was shot and killed by officer Darren Wilson on 9 August. The shooting sparked several days of protests in the Missouri town, with many eye witnesses claiming the 18-year-old had his hands up in the air in a surrender before he was killed.
An autopsy revealed Brown was shot six times during the encounter, including twice in the head. Authorities suggested he could have survived the first four shots before being fatally struck in the head.
Retired chief deputy US Marshall Matthew Fog told CNN if the audio proved to be genuine, then the pause in between the spate of gunfire "brings some concern" for Wilson and the investigation.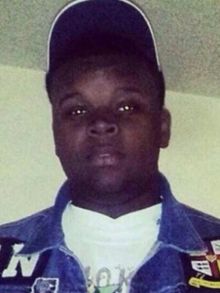 "It is very significant, because if you have a pause there it means somebody had time to think and then fire again," he said.
The lawyer for the man who is alleged to have recorded the audio, Lopa Blumenthal, also told CNN she was "very concerned" about the pause during the gunshots.
She said: "It's not just the number of gunshots, it's how they're fired. And that has a huge relevance on how this case might finally end up."
Blumenthal added she "personally heard at least 11" shots fired during the recording. She and her client are believed to have been interviewed by the FBI regarding the audio clip.
Elsewhere, thousands of people attended the funeral service for Brown at the Friendly Temple Missionary Baptist Church in St Louis.
Veteran civil rights campaigner Reverend Al Sharpton gave a eulogy for the teenager in which he called for peace in the wake of his death.
"Michael Brown does not want to be remembered for riots," he said. "He wants to be remembered as the one that made America deal with how we are going to police in the United States.
He added: "America is going to have to come to terms when there's something wrong, that we have money to give military equipment to police forces, when we don't have money for training, and money for public education and our children."