Ferguson Protests: Demonstrators Urge 'Go Kill Isis and Leave Us Alone'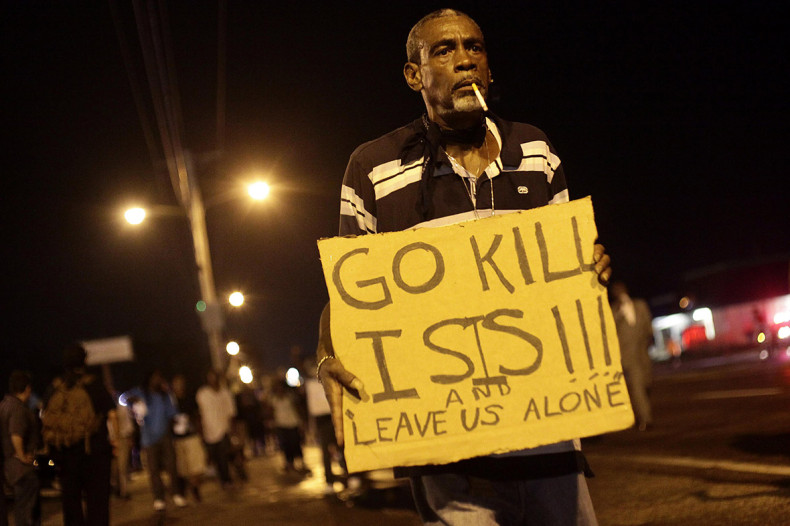 As the unrest in Ferguson, Missouri, continues for another day following the shooting of unarmed teenager Michael Brown, protesters have started asking whether the US authorities should be focusing elsewhere.
Demonstrator Fred Scott was photographed holding a banner that read "Go kill Isis and leave us alone" during a march in protest at the shooting of Brown on 9 August.
The sign was in response to the killing of US journalist James Foley by who is believed to be a fighter from Isis (known as Islamic State).
The footage sparked outrage and disgust around the world, with US President Barack Obama saying the graphic beheading footage shows Isis "has no place in the 21st century".
Scott's placard appeared to suggest the amount of force — including use of military equipment by police and the National Guard — would be better placed fighting those who committed the "appalling" act of terrorism against the US, rather than the protesters in Ferguson.
US Attorney General Eric Holder has met with Brown's parents and promised a "fair and independent" investigation into the shooting.
In an open letter published in the St Louis Post-Dispatch, Holder called for an end to the "acts of violence in the streets of Ferguson".
"Although these acts have been committed by a very small minority — and, in many cases, by individuals from outside Ferguson — they seriously undermine, rather than advance, the cause of justice," he said.
"I urge the citizens of Ferguson who have been peacefully exercising their First Amendment rights to join with law enforcement in condemning the actions of looters, vandals and others seeking to inflame tensions and sow discord."