A state of emergency has been declared in the St Louis suburb, where a black teenager was shot dead by police last week.
A curfew has also been imposed in the city after looters attacked the shop, which police claim 18-year-old Michael Brown had robbed on 9 August.
While looters raided Ferguson Market & Liquor convenience store, a group of peaceful protesters attempted to stop them, blocking the front of the shop to protect it.
Following a week of riots midst escalating racial tensions, Missouri State Highway Patrol's Capt Ron Johnson reported that protesters were throwing rocks at police, leaving one officer hurt. No arrests were made.
In a news conference, Missouri Governor Jay Nixon said that although many protesters were making themselves heard peacefully, a handful of looters were endangering the community.
"We must first have and maintain peace. This is a test. The eyes of the world are watching," Mr Nixon said. "We cannot allow the ill will of the few to undermine the good will of the many."
"The tragic shooting death of Michael Brown one week ago today and the events that followed have left a family grieving the loss of a son, a community wracked by fear and unrest and an entire world looking for answers and justice.
"To protect the people and property of Ferguson, today I signed an order declaring a state of emergency and ordering the implementation of a curfew in the impacted area.
"This is not to silence the people of Ferguson or this region, but to contain those who are drowning out the voices of the people with their actions.
"We will not allow a handful of looters to endanger the rest of this community."
On Friday (15 August) police released CCTV footage, claiming that it showed Brown stealing a box of cigars from the convenience store and intimidating its owner.
However, local residents believe that Brown was unarmed and had his hands up when he was shot.
The teenager's cousin, Eric Davis said, regardless of what transpired in the store, police were not justified in shooting Brown while he had his hands raised in submission.
"Whatever took place there had nothing to do with an individual getting down on his hands and knees, raising his hands in the air saying 'don't shoot'," he said at the news conference.
"This is a universal call for 'I surrender' and I can hear my cousin's voice right now as I speak saying, 'don't shoot', yet still the officer shot him and that is wrong."
His family said they were "beyond outraged" by the video, criticising what they described as an attempt by the police to "justify the execution-style murder".
Police also revealed the name of the officer involved in the shooting, after pressure from Brown's family.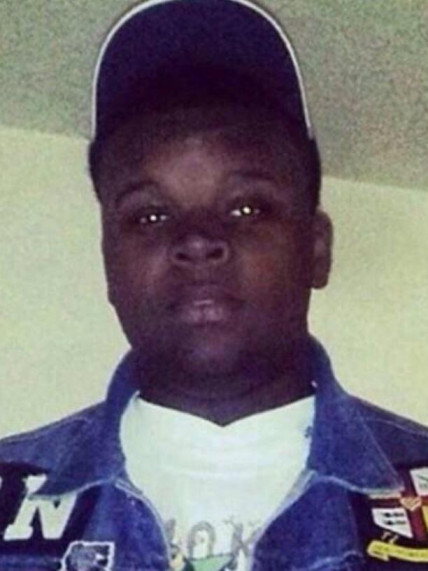 Darren Wilson, 28, who has six years' service and no disciplinary record, was described by colleagues as a "gentle, quiet man" and "an excellent officer".
Violent clashes and escalating tensions in the aftermath of the incident, have left the community of Ferguson fractured and in turmoil.
Protests have taken place across the US, reflecting a long-simmering anger from a majority black community towards an almost exclusively white police force.
The protests turned violent, with some people lobbing Molotov cocktails and other objects at police, who responded with smoke bombs and tear gas to disperse the crowd.
On Friday night, civil rights leader Reverend Jesse Jackson linked arms with protesters as they marched to the site where Brown was killed.
US President, Barack Obama has appealed for residents to maintain "peace and calm" on the streets, while conceding that there is no excuse for the use of excessive force by police in the aftermath of the shooting.
The President has ordered the FBI and Justice Department to investigate the shooting of Michael Brown.
Jay Nixon said the curfew would run from midnight local time (05:00 GMT) until 05:00 (10:00 GMT) in Ferguson.