A man thought to be at the centre of the Tottenham Court Road bomb scare in London has been named by Sky News sources as 49-year-old Michael Green.
Police are refusing to confirm anything but the age of the suspect.
Metropolitan Police were called to Shropshire House on central London's Tottenham Court road when a man thought to have several gas canisters strapped to his chest entered an office and threatened to blow himself up just before midday.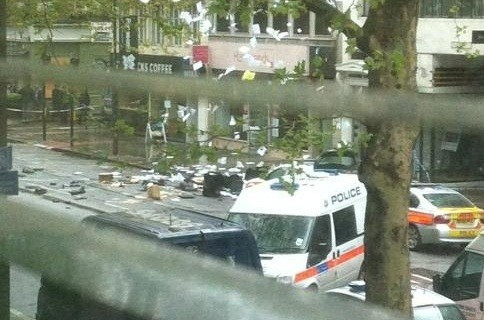 It has since emerged that the offices belong to Advantage, an HGV licensing company, where them man is thought to have failed a test and has demanded his money back.
Items were being hurled from a fifth-floor window of the building, including electrical items and paper.
A video of someone who was in the building when the man entered has been uploaded to YouTube.
"What's happened is we were in the office, someone came in and we asked him what his name was. I recognised him because he was one of our previous customers," said Abby Baafi, 27, the head of training and operations at Advantage, in the video recorded by Stephen Hull, executive editor of the Huffington Post UK who is at the scene.
"He just turned up in gasoline cylinders. He threatened to blow up the offices. He said he doesn't care about his life, he doesn't care about anything, he's going to blow up everybody."
She said he was looking for her, but he let her go because she said she was pregnant.