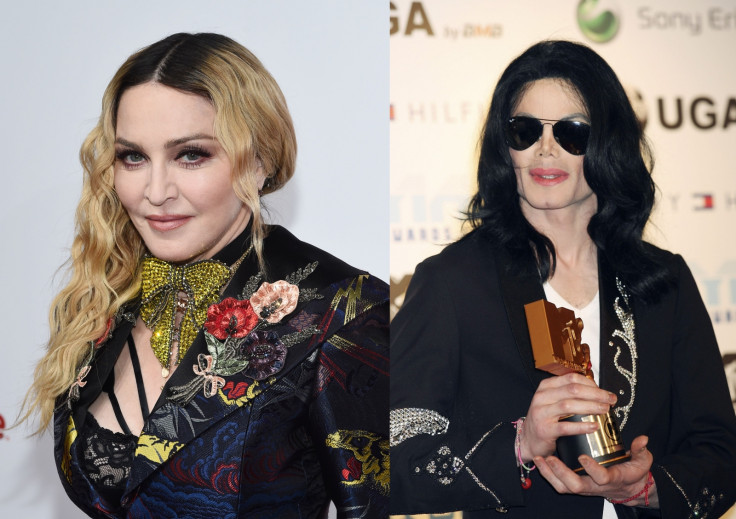 Madonna opened up about her blast from the past while riding the SUV with James Corden during a recent appearance in the Carpool Karaoke segment. Without revealing much about the timeline, the songstress talked about her hot romance with pop legend Michael Jackson and how she had to make the first move to kiss a "shy" Jackson.
But, it appears as if there is more to the romance than Madonna let on in the chat show. Apparently the King of Pop and the Like a Virgin hitmaker split after she criticised Jackson on TV for his style.
The reason why Madonna and Jackson couldn't become the most happening pop couple was revealed by an old family friend, Flo Anthony, shortly after the songstress's revelation on the chat show. If his words are to be believed, the late singer was furious with the 58-year-old over her suggestions of a style make-over.
"He told me back then (in the early 1990s) that she'd spent the night at Neverland," Anthony recalled adding, "He also told me that she'd told him if they were going to start dating, she wasn't going to Disneyland, his favorite place."
"The reason their relationship didn't stick was because she did an interview on TV saying she would like him to get a new look and she wanted to get him out of those buckles. He was livid that she criticized him on TV," the family insider revealed.
Following the TV interview, Anthony recollects that Jackson never spoke to Madonna again, "he was mad as hell!"
Madonna spoke about her intimate moments with the pop star on Wednesday night's Late Late Show, where she confessed that she and Jackson had indulged in some "tongue-in-mouth kissing." The Vogue singer's revelations were prompted by Corden, who pressed her on her famous fling in the past.
"Well, I did [make the first move], if you wanna know the truth," Madonna confessed, "Cause he was a little bit shy. However, he was a willing accomplice. I did get him to loosen up with a glass of chardonnay. And it did. It worked wonders."
Although their romance didn't work out, Madonna went on to marry actor Sean Penn in 1985. In 2009 Jackson died at the age of 50.